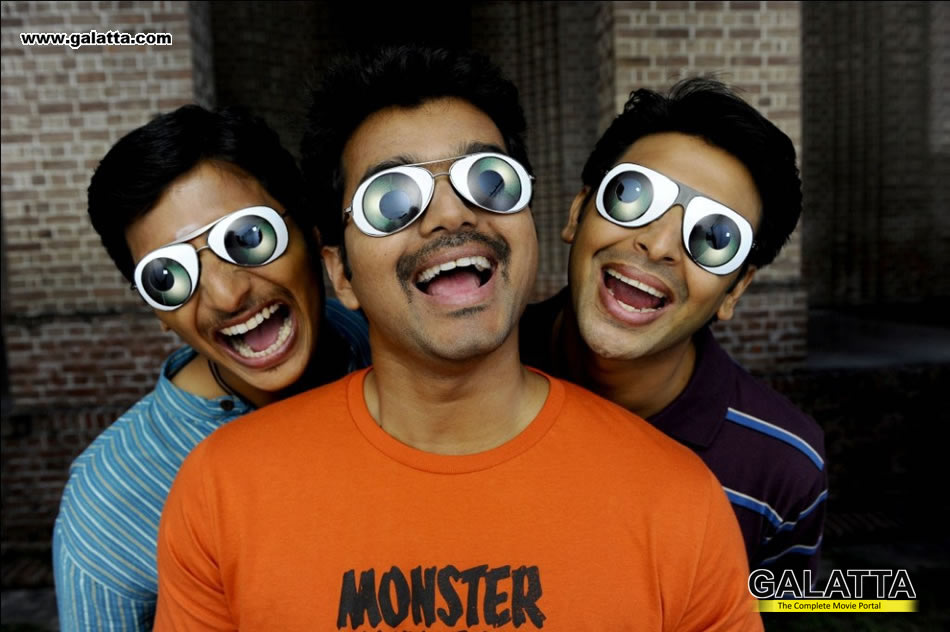 About

Nanban
Two friends goes on a mission to find their long lost classmate Pari, the intelligent and optimistic of all.
Nanban Movie review
After a long time, as Editor of Galatta's publications, I offer you a very personal review. You may allow it to colour your judgment of Nanban, or preferably, you may file away the review as a curiosity catalyst and head to your favourite cinema hall and watch it for yourself.

For once, let me give you the verdict right in the beginning and then continue with the review itself:

Nanban is a must-watch.

In a nutshell, Nanban is a big-bang movie, which everyone is keenly waiting to see if it will soar or fall flat…
And it is a movie that comes with a lot of pleasant surprises. Shankar's work is surprising, Vijay's work is even more surprising, Srikaanth's presence is surprisingly keen and Harris Jayaraj's music is surprisingly finely interwoven into the mood of the movie. Of course, Jiiva is amazing (as per usual), Ileana is utterly lovely, Sathyaraj is impeccable (as always), cinematography is vibrant, the flow of screenplay is smooth and the editing is well done.

There's not much difference in scripts, between 3 Idiots and Nanban. Director Shankar has remained true to the original and has re-made it almost dialogue to dialogue.

Briefly: It's a fresh academic year at Ideal Engineering College and the two focal 1st-year students are Selvakodi Senthil (Jiiva) and Venkat Ramakrishnan (Srikaanth). Senthil comes from a very poor family with an ailing father, a withering mother and a yet-unmarried older sister. Getting through these 4 years of engineering and landing a job are his fervent wishes and his obsession. Venkat parents are a struggling middle class couple who are proud of their son and have invested all their dreams and resources into Venkat becoming an engineer and landing a well-paid job – whether he himself wants to pursue this stream or not.

The college is run by a dragon of a Principal, Mr. Virumandi Santhanam aka Virus (Sathyaraj) – his ideology on achieving success is that life is a ruthless, fast, dirty race and if anyone is not up to the highest, strictest standards; then they get left behind. Merciless.

And there is Srivatsan (Sathyan), a pompous, blinders-on student who is both insecure and arrogant and is so caught up in the supposed race for maximum marks, apple-polishing and academic achievements, he forgets to truly learn and grow as a human being.

Enter 3rd student in the unlikely trio with Senthil and Venkat: Panchavan Parivendan, aka Pari (Vijay). He is not aggressive, cocky or stand-offish. He is cool, calm, confident, self-effacing and seems to have a special enigma around him. His greatest traits throughout the narrative are his courage and confidence to "give it a shot", no matter what it is; and to think out of the box.

Through various incidents – from the hilarious manner in which Pari avoids being ragged by the seniors (despite the rest of the freshmen lined up and semi-naked), to his eye-opener of a definition of "book" (which also redefines the way we learn definitions), to his love of machines and thinking in a 3-dimensional manner, to his unreserved loyalty and courage toward his friends and fellow students, to his unflappable demeanour and to the interesting twist at the end – Pari shows his friends, his faculty and the world itself that in our country and academic systems, education has not yet become learning; and proves that it would be a better road to success and happiness if we would concentrate more towards questioning, learning and boosting our own talents instead of being pushed into something that falls into a rote-like list of "steps to success".

Pari tries to show the world that success is not only defined by how much money one makes or what fine comforts in life one has; but about becoming the best at what one is good at and exploring and questioning life with an open mind.

The original 3 Idiots, despite its international acclaim and runaway success, has also had a lot of scattered commentary on how it is "too preachy" and that Aamir Khan manages to come off looking larger than life and a Mr. Know It All, despite playing the character of someone who is a humble genius. Even Kareena Kapoor is an overwhelming star presence and somewhere along the line, the movie goes from walking the rope over commercialism and "hat-ke" script to being pure Bollywood.

Nanban is surprisingly subtle, especially given that it is a Shankar & Vijay movie.

Vijay's performance is subdued; impressive. At one glance, this mass hero may make many a viewer think that there's no way one can imagine this macho man as an academic genius. But his dialogue delivery, confident-yet-subtle body language and wry humour eases this path for him and somewhere along the way, you can actually believe it all.

Perhaps the most pleasantly surprising thing about this movie that it is not just a "Vijay film" or "Shankar film". The man who makes mega-budget movies that makes producers shudder; the man who believes in throwing together an explosive but already-done plotline and several big names in the industry to make a big boom, the director who believes in taking big risks to rake in bigger returns… has done a volte-face in Nanban. He's stuck to a lot of his signature quirks: vibrant colours, fabulous song choreography and costumes, painted trains and whatnot; but he's brought in an essence of smoothness and subtlety to an essentially commercial script and restored my faith in him as an urban director with panache.

He has ensured that Vijay shines in this film, but without taking away the importance of any of the other characters. He has brought in a lot of what the public looks for in commercial cinema, especially a Shankar film (like gimmicks, funky song picturisation, graphics); but he has tempered it well enough to make it all palatable even to the multiplex audiences who have seen the best of Hollywood and new-age Hindi cinema. In fact, it is quite commendable that not only has he remade an existing movie well, he has even managed to bring in a Tamil flavour of its own!

He and Harris have ensured that the music is fun to listen to and is not a jarring, sudden presence in the middle of the narrative and most importantly, doesn't become larger than the movie itself.

Manoj Paramahamsa's camera work is outstanding. from his debut in Tamil cinema, Eeram to Gautham Menon's VTV and beyond, we at Galatta have always had an instinct that this young man is headed for sure-footed success. Nanban's visuals are proof that he's on the right track.

Special mention must be made of actors Jiiva and Srikaanth. They have done an outstanding job.

Especially with Jiiva, he must have had his work cut out for him because as a currently hot-property star, he has to both shine next to a powerhouse mass hero like Vijay and yet remain within his character. He has carried it off with aplomb. The heady cheering and whistling of the audience are testimony to his popularity.

Srikanth too holds his own in a role key to the movie. Sathyan is pretty good at imitating the annoying Chatur character in 3 Idiots. Ileana is a stunner, even better than Kareena Kapoor's role. Probably because she is a big star in Telugu but yet to make it in Tamil cinema. Which gives her a mixed aura of both freshness and super-stardom. Her work too is pretty good and she comes across as delightfully adorable.

Good locations (Lo and behold – Shankar has not gone overboard with the expensive, exotic locations this time!) for the movie, the right amount of foreign-shores exotica for some songs and a grounded feel to it all. Of course, as with almost every Tamil film, there are a few avoidable glitches here and there, but they are almost negligible in the face of this otherwise good, watchable movie.

Nanban may or may not be a blockbuster, runaway hit. There have been a few good movies that have got the success they deserve but there have been so many such lost by the wayside because of fickle, unappreciative audiences or poor marketing and product placement.

But to movie buffs who always look for a movie, its actors and technicians to try and break the cliché every once in a while, at least in small ways, Nanban is a memorable experience.

Hats off to Gemini Film Circuit for boldly embracing this project. While a big movie riddled with big names may give big returns, it is also an equally daunting risk and the producers have shown good judgment is pulling through to the end with this movie. We need more such!

Because of its subtlety and smooth nature, perhaps Vijay will not trigger frenzy or mad rush across the B & C centres beyond the first few weekends; or maybe he will do it after all, with his fine comic timing.
Whatever happens though, he would have grown as an actor and performer in the eyes of the urban audiences as well. In this willingness to change and probe lies his true success and this is his path to go global as well.

It's Nanban-da, so thumbs up for it this Pongal!

Review by Shakthi Girish, Editor in Chief, Galatta Cinema.