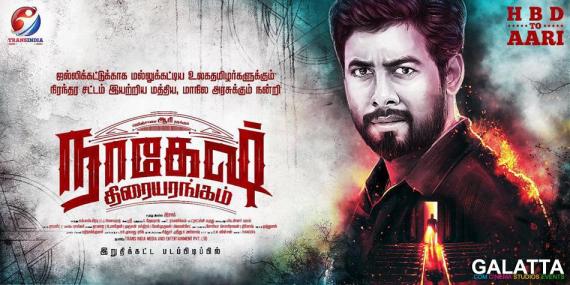 Nagesh Thiraiyarangam Movie Cast & Crew
Production : Transindia Media & Entertainment Private Limited |
Director :
Mohamad Issack |
Lyricist :
Thamarai |
Cinematography :
E. J. Nauzad |
Story Writer :
Mohamad Issack |
Screenplay :
Mohamad Issack |
Music Director :
Srikanth Deva
Nagesh Thiraiyarangam Movie

Photos
View More Nagesh Thiraiyarangam Photos
Nagesh Thiraiyarangam Movie review
There have been several horror films over the years in Tamil cinema with many going to delight audiences with enough scary elements. Nagesh Thiraiyarangam too follows the path, but has chosen to keep a theatre as the centre of attraction.
The film starts off informing audiences how the said theatre is haunted and anybody who has ventured into it has not come out alive. Fast forward few years later, we are introduced to Aari, a house broker, who isn't seeing any big success in life. His family, which includes his mother, brother and sister Athulya is shown as someone who cannot speak. Ashna Zaveri then comes into the picture as Aari's girlfriend and goes on to introduce to him her friend, who happens to be in love with Athulya.
Aari is shown wise and ahead of his age and informs his mother to go meet Ashna's friend's family to discuss an alliance for his sister. The talks are successful, but the boy's father requests that a certain condition be met in accordance.
While Aari and his family are worried over the specific requested condition, his mother steps forward with the agreement of a certain theatre and informs her son to sell the said property, which happens to be a theatre called Nagesh Thiraiyarangam. How the group decides to overcome the obstacles ahead of them and what all are the mysteries that surround Nagesh Theatre forms the remainder of the plot.
Director Mohamad Issack has attempted to make a film with a theatre as a driving plot point and has come out successful in conveying a story that hits audiences at the right places. Although he has come up with a story that might seem quite familiar, his execution needs to be lauded.
Aari is clearly the standout in terms of performances and comes up with a nuanced act throughout. At no point do we get the feeling he is being unnatural in his expressions and has certainly improved and matured in recent times quite a lot. Ashna Zaveri is a knockout in her appearance and is a pleasant breeze each time she appears on screen. Athulya Ravi has been given a challenging role, which she has made good use of, but could have certainly done a bit more. Masoom Shankar, although not featured as extensively as the others makes it up with her act. Kaali Venkat's balanced comedy comes at the right junctures and delights us appropriately.
On the technical front, cinematographer E. J. Nauzad has made good use of the lighting and has made the film appear as realistic as possible giving us the much-needed horror feel. As for Devaraj's editing, his cuts are not jarring and do not feel out of place from the progression of the story. In comparison to the songs in the film, Srikanth Deva delivers big time in the background score department.
Thumbs Up
An engaging second half
Aari's standout performance
Comedy portions although few hit the high note
Horror twists require praise

Thumbs Down

CG could have been better