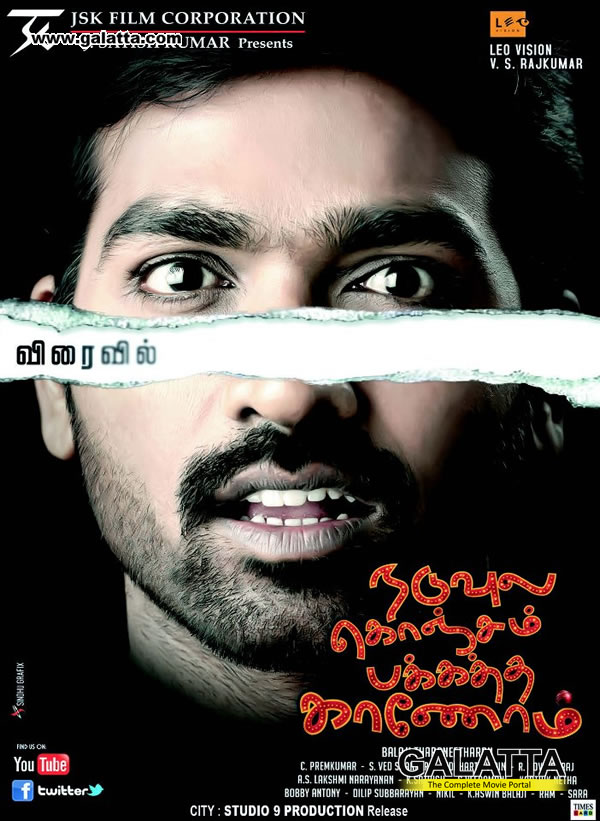 About

Naduvula Konjam Pakkatha Kaanom
A young man forgets a few days of his life, even as he is about to get married.
Naduvula Konjam Pakkatha Kaanom Movie review
Debutant director Balaji Tharanitharan's comic caper Naduvula Konjam Pakkatha Kaanom (NKPK) has finally seen the light. The film's release has recently been pushed earlier due to lack of theatres. The film is apparently an on screen adaptation of a real-life incident. Interestingly the film is inspired from a chapter in the life of cinematographer Premkumar (of Pasanga fame). What will happen when a person suddenly realises that few days of his own life is missing, that too just few days before his marriage; this forms the basic crux of the film. Naduvula Konjam Pakkatha Kaanom has Vijay Sethupathy and Bhavathi in lead roles. Music is composed by Ved Shankar and the movie has been produced by V.S. Rajkumar for Leo Vision and J.S.K. Film Corporation.

After lots of fight and struggle, Prem's (Vijay Sethupathy) marriage with his lady love Dhanalakshmi (Gayathri) gets finalised. A day before his wedding Prem decides to play cricket with his friends (Rajkumar, Vigneswaran and Bhagawathy Perumal). The game goes serious and Prem hurts his head when he tries to catch the ball. Shockingly, Prem forgets few months in his life including his lady love Dhanalakshmi. His friends take him to the hospital but nothing works. So what will happen now? Will Prem marry his lady love? Watch out for Naduvula Konjam Pakkatha Kaanom...

Director Balaji Tharanitharan's has surely delivered a comedy entertainer right in his debut flick. The series of events where Prem's friends tries to hide his problem from his parents and lover is a treat. After a long time, here we have a complete comedy entertainer with the real Chennai flavour. Vijay Sethupathy is the show stealer, he blank expressions and comic timings are top class. Rajkumar, Vigneswaran and Bhagawathy Perumal are perfect and sets the screen on laugh-riot. Gayathri has very limited role in NKPK.Premkumar's camera works are youthful and realistic. Ved Shankar's music is good and Govindaraj's editing works are sleek but the the film can be trimmed further to get that perfect touch.

A comedy-riot! Perfect weekend plan!