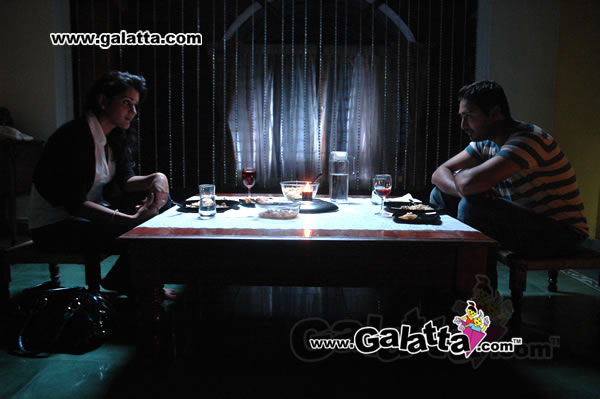 Naanayam Movie review
Movies are meant to be entertaining. Most memorable movies are those which have entertained audiences and are remembered and enjoyed again and again. There has been art house cinema and the so-called commercial cinema. Commercial cinema refers to films made with only one aim in mind: providing complete entertainment to the viewer. Along with entertainment, there are some movies which engage the audience, making their movie-watching experience truly memorable. Debutant director Shakti S. Rajan's Naanayam is one such. Produced by S.P. Charan with S.P. Balasubramanyam, Prasanna, Sibiraj, Ramya and Yasmin in the lead roles, Naanayam is an engaging thriller which strikes a chord with those who love foreign films. Now, over to the review...!
Who's In It?
It's been a while since we saw leading heroes sharing screen space. Shakti S. Rajan's script has been convincing enough to bring together Prasanna and Sibiraj for Naanayam. Ramya (Sandai, Thee) and Yasmin Khan are the leading ladies. S.P. Balasubramanyam makes a comeback on screen after a long break with Naanayam. Jasper, Sundar, Jayanth, Vishwanath, Senthil, Arunachalam and Rathinavel are part of the roller-coaster ride! Naanayam has music by James Vasanthan and background score by Taman S. The movie is written and directed by Shakti S. Rajan, an assistant to cult film directors Mysskin and Venkat Prabhu. Naanayam is produced by S.P. Charan for his Capital Film Works.
What's It About?
Naanayam is about three men - Vishwanath (S.P. Balasubramanyam), Ravi (Prasanna) and Fareed (Sibiraj). The story revolves around their lives. Ravi is an ambitious youngster who wants to run his own business and become an entrepreneur. Vishwanath is the CEO of Trust Bank, one of the most reputed banks in the region. Ravi bravely saves Vishwanath from a masked thief who tries to rob him. After a short conversation, Vishwanath, impressed with Ravi, offers him a job at his bank. Even after Ravi mentions that he wants to become an entrepreneur, he convinces him to take up the job. Ravi accepts.
Several months later, Vishwanath and his board members approve Ravi's project to make Trust Bank the safest bank for customers. The security system devised by Ravi is said to be fool-proof. Meanwhile, Ravi's application for a loan to start his own business is rejected by Vishwanath. The CEO tries to convince Ravi that if the security system becomes a huge success, he can make all the money he wants. Ravi is disappointed but stays dedicated towards the project which gets implemented in a few months.
Nandhini (Ramya), a recently divorced journalist, meets Ravi for an interview. Friendship between them blossoms into love. During one of their holidays, Ravi is attacked by Nandhini's ex-husband who also tries to harm Nandhini but is beaten up by Ravi.
The following day, Ravi finds Fareed in his apartment. Fareed is a criminal who earlier worked under the team of Vishwanath who was then the manager of Trust Bank. He was put in jail by Viswanath for stealing from the bank and is now back to take his revenge on Vishwanath. Fareed and his gang of criminals kill Nandhini's ex-husband and threaten to link the murder to Ravi. They show the photographs of Ravi and Nandhini together during the holiday and the hassle between her ex-husband. Fareed also kidnaps Nandhini and threatens to murder her.
To save himself from the cops and Nandhini from the clutches of Fareed, Ravi must devise a plan to rob the Trust Bank which will ironically prove it not the safest bank. Fareed coerces Ravi to do so and explains that this would put Vishwanath to shame. Fareed needs this more than the money from the bank heist as his revenge.
After a few failed escape attempts, Ravi, having got badly thrashed by the gang, starts working on the plan since he has no other option. Together, they decide to rob the bank on a weekend. The rest of the story with interesting twists shows if Ravi and Nandhini save their lives from Fareed by succeeding in the bank heist.
The Performances
Prasanna and Sibiraj steal the show throughout in Naanayam! After an impressive performance in Acchamundu Acchamundu, Prasanna excels as Ravi. This is his most stylish film till date. It is a delight to watch Sibiraj playing a character with negative shades. He reminds us of his dad, veteran actor Sathyaraj in most scenes, especially those where he makes the villainous remarks about the other cast! He has evolved as an actor since his debut with Student No. 1. Like 'Thagadu Thagadu', Shakti has given Sibiraj a few catch phrases which might become a cult among the youth audience in the days to come. Yes, it is his dialogue delivery which make them interesting. Naanayam makes us crave for more Sibi! Kudos to Shakti for having balanced the characterization of Prasanna and Sibiraj in such a way that none of their fans will be disappointed with the performances!
Ramya as Nandhini is refreshing. Her swimming pool sequence is sizzling! Her character has been etched out well and the twists are a surprise. Suchitra's dubbing for her voice fits her on screen character to a 'T', giving the necessary modulations and tone throughout. Yasmin Khan's performance as the secretary to Prasanna is good and she shows promise.
S.P. Balasubramanyam as Vishwanath is at ease playing the role of a man who feels guilty for having chosen the wrong route to fame and success. He emotes perfectly. Members of Sibiraj's gang have done a commendable job but their roles have been limited since the focus stays on the lead actors. Overall, performances of the entire cast of Naanayam is worthy of mention.
For the Techie Lovers
Naanayam is more than satisfactory for techie lovers. Story, dialogues, screenplay and direction by Shakti deserves appreciation. Cinematography by Om Prakash gives the movie the colour it needs. Editing by Praveen and Srikanth is slick. Songs by James Vasanthan are average. 'Naan Pogiren' and 'Ka Ka Ka' are the pick of the lot. On the technical front, Shakti's screenplay for Naanayam is hugely supported by an excellent background score by Taman S. He just rocks with his score which haunts you even after you leave the cinema hall! Art direction by Vithesh is excellent. Vasuki Bhaskar's costumes add more character to the cast.
Final Verdict
When most of the directors stick to the regular commercial formula dishing out masala movies, Shakthi has made a mark with his debut movie, giving us something different without breaking the so-called rules of commercial cinema. Other than Naanayam, it's difficult to think of any other impressive Tamil movie that revolves around a bank heist ! Hats off to producer S.P. Charan for encouraging and introducing promising directors in each production!
Cheers!: The entire cast and crew of Naanayam!
Review by Shailesh.
Please note: Every review on Galatta.com is written by the person who has watched the movie. Therefore, while conscious effort is made to give a fair, unbiased and ethical opinion, every review will have a personal element and opinion to it. Ultimately, every movie experience is a personal one and readers should watch each movie on their own terms.