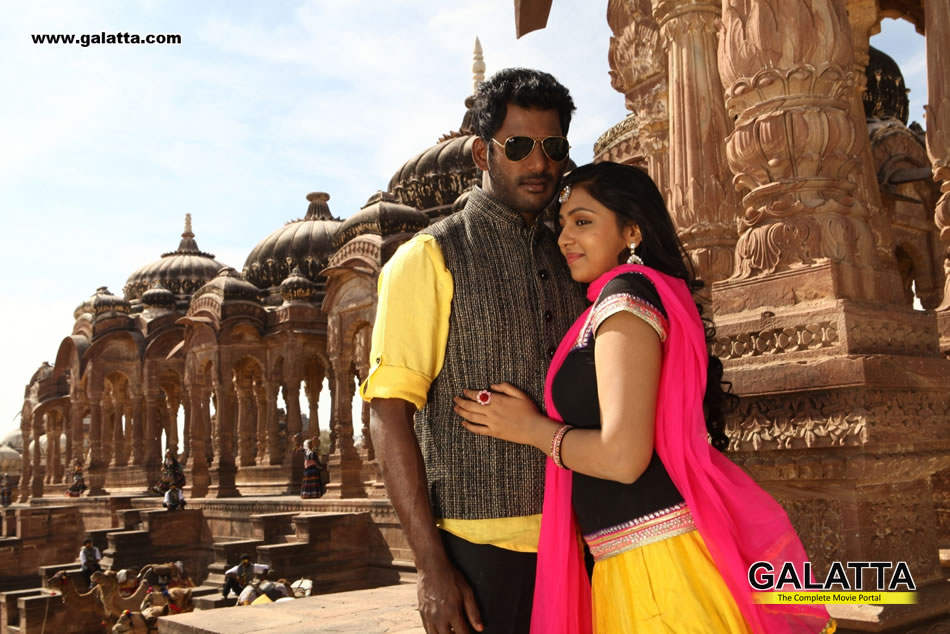 Naan Sigappu Manithan Movie review
Released by Vendhar Movies S. Madhan and produced by UTV and Vishal Film Factory, Naan Sigappu Manithan stars Vishal and Lakshmi Menon in the lead.
The movie opens to a group of 4 rough and tough looking guys drinking and talking on a train. When a policeman questions them, they throw him off the train, very casually. In the next scene, we see a young man (Vishal) trying to buy a gun in the middle of the night, despite his friends (Jegan and Sundar Ramu) warning him against it. The young man is Indran.
As a child he was diagnosed with narcolepsy. His mother (Saranya Ponvannan) is a school teacher. Due his medical condition, when grown up, Indran is unable to get a job. After a college approaches him to use him as a case study for their students, he earns some money and begins working online from home itself. Indran has a wishlist of 10 things that he wants to do. These are very simple things for normal people, but not for him... and each of the incidents that happen in his life are towards completing his wish list.
One such wish is for him to go for a walk alone (as he is always accompanied by his friends because of his narcolepsy). He suddenly falls asleep and a drunkard uses him as an unclaimed corpse to dupe people. One of the people who is duped is Meera Lakshmi Menon), an uber rich girl. But, when Meera meets an 'awake' Indran, she is shocked. After getting to know about his condition, she starts moving around with him and the duo slowly fall in love. She begins to love him so much so that she helps Indran realise everything on his wishlist one by one. Meera's father (Jayaprakash) is against Indran, as he cannot have a baby. Meera's unflinching love goes to the point where she makes love to Indran and becomes pregnant. Things seem to be going well, but then as all stories go... there is something eventful just around the corner. On a rainy night, while Meera and Indran are going in the car, another car waylays them. The sudden shock forces Indran to go to sleep. A group of 4 men attack Meera and gangrape her, forcing her into a coma. Who are these men? Why are they attacking Meera? What happens to Indran? When everybody thinks it is Karthik (Rishi), whose advances Meera spurned, who instigated the attack on her; it turns out that there is a whole twist, or should we say twists in the tale... What are the twists? Where will Indran's narcolepsy lead him? Watch Naan Sigappu Manithan on the big screens to know!
Director Thiru has taken a novel and unique plot and woven it into a gripping script! The research that has gone into the subject is there on the screen for all to see. The screenplay is taut and keeps the viewers engrossed. Vishal is brilliant as Indran and has followed up on his good work in Pandiya Naadu with another super good performance. Lakshmi Menon as Meera, just breezes through her role and is just getting better with each film. Jegan, Saranya Ponvannan, Jayaprakash and the other character artistes are very good. The two people who give the leads a run for their money are Sunder Ramu as Karuna and Ineya as Kavitha. Sunder Ramu has shown that he can do complex roles with ease. GV Prakash's music is very good and the songs are haunting. The 'Penney Oh Penney' and 'Aadu Machi' songs are the highlights. Cinematography by Richard M. Nathan is very pleasing and the climax stands out! The complex script might take some viewers a second viewing to sink in.
Naan Sigappu Manithan is a bold tale that is sure to make it big at the box office!