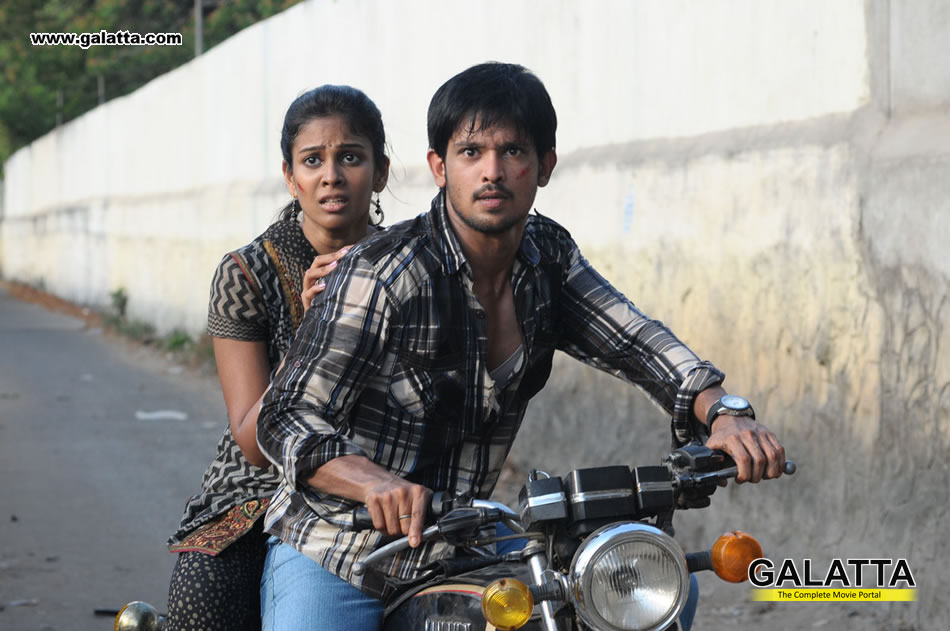 About

Naan Rajavaga Pogiren
Udhayam NH-4 is a typical Vetri Maaran script that plays with a handful of complex characters. This time he chooses an urban story in which the characters are up for a do-or-die battle on NH4, which connects Bangalore and Chennai.
Naan Rajavaga Pogiren Movie review
After a short hiatus, the peppy Nakul is back with Naan Rajavaaga Pogiren, an action extravaganza from Udhayam VL Cine Media!
The movie opens to show Raja (Nakul) having a bloody fight with some gangsters, before being run over by a lorry! Another scene shows Kamarajar (Manivannan), a social activist, lying dead in his own house, in a pool of his own blood! The movie cuts to Himachal Pradesh, where we see a timid and playful Jeeva (Nakul), who along with his mom (Seetha) works on his uncle's Apple farm! After getting into trouble with the local military authorities, and while serving punishment there, an army comes across him, and mistakes him for Raja! He then proceeds to reveal that he and Raja were classmates, and shows Jeeva a video of Raja! Raja, Reema (Avani Modi), and Wahab (Nishanth) are very close friends, and their whole college life is one riot! Raja helps Wahab with his love, and marriage to Noori! Raja is the college hotshot and a kickboxing champion, who is the darling of his friends' eyes! Jeeva gets enamoured knowing that there's another individual looking exactly like him! Jeeva sets out to meet Raja!
Jeeva sets out to meet Raja, and along the way, meets Reema at her native Bhopal! While Jeeva was believing that Raja and Reema might have gotten married by then, he is in for a shock when Reema reveals that she parted ways with Raja, after Valli's (Chandni) entry into their life, and Raja falling for her! Reema tells Jeeva, how she fell for Raja, and with a heavy heart, moved away from him, so as not to disturb his relationship with Valli! Meanwhile, Valli is a no-nonsense law college student, with a straight-forward and serious approach to life! Reema decides to surprise Raja on his fast-nearing birthday, by introducing him to his lookalike Jeeva, and the duo embark from Bhopal to Chennai, with this in mind! However, when they reach Chennai, they find that almost everything has changed! Wahab reveals that Valli's parents were killed by Esakki (Gaurav), and he hasn't seen Raja or Valli after that!
Why are Esakki and his men after Valli and Raja? What is the mystery behind Kamarajar's death? Why has Valli been kept in a mental health institution? What happened to Raja? What is the relation between Raja and Jeeva? To know the answers to all these questions, watch the movie on the big screens!
Director Prithvi Rajkumar has taken up a very intense and complex subject, and woven a tale of action and mystery around it! The plot is gripping and the screenplay ensures that the viewers are kept on the edge of their seats, right from the beginning to the end! Nakul, as the polar opposites Raja and Jeeva, is perfect and engaging! Chandni, as the proactive law student is the brightest light of the movie! Avani Modi, the newcomer, is pleasing to the eyes, and is apt for the role of Reema! Nishanth has been given a meaty role, and makes the best use of it! Another surprise package is Gaurav! He shows us a completely new facet of himself, in this movie!
The action sequences have been choreographed amazingly! They are completely believable, and going by Nakul's interviews that he didn't undergo any special training for the Kickboxing scenes, he has performed superbly! The screenplay should be called the king of this flick, as it maintains the tempo throughout! However, the only dampening feature is the editing, which could have ensured that some tempo dampening scenes were cut short! The first half moved at break-neck speed, while the second half could have been crisper! But, the totally unexpected twists and turns in the second half, more than make up for the minor slip-ups!
If you want your summer vacations to have a bang, then Naan Rajavaaga Pogiren, is the movie for you!