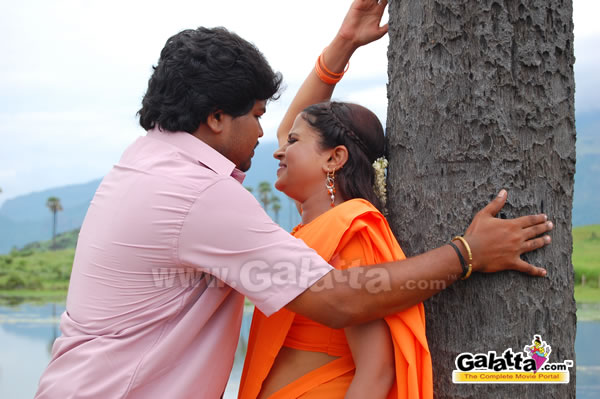 Naal Natchathiram Movie review
The film starts off in a remote village in South Tamil Nadu, where Manorama lives. Manorama (Aachi) has a significant say when it comes to village affairs, being the senior-most person; she is an ardent devotee of Thamburati Devi - the local deity who is worshipped by all as the protector.
Aachi's son decides to relocate and spend the rest of his life with his family and mother. His family includes his wife and daughter Uma (Krishnasri). Kumar (Sanjay) enters the village with his friends and creates troubles for the locals, but falls in love with Uma on first sight.
Soon, a village panchayat is convened and Kumar is instructed not to create problems with an ultimatum that he may have to leave the village forever, never to return if he persists in his trouble-making. But he is in no mood to leave; instead, he tries his level best to impress Uma. Uma, very firmly rooted in family values, aspires to study further and become an IAS officer.
Uma's father also thinks of getting his daughter married, but Kumar secretly ties the thali around her neck in front of the local deity at the temple. Uma is forced to live with him as instructed by Aachi.
The couple soon moves to Chennai in search of job and livelihood. Chance favours Kumar and he gets a job at a local club. The club owner decides to help Kumar out of his misery and also rewards him for his honesty and hard work. Uma, in the meantime, has still not accepted the fact that she would have to spend the rest of her life with Kumar, and refuses to accede; she even makes an effort to file for divorce.
At the same time, Kumar tries his best to impress her with his good nature and earning capacity. But one day, he is attacked by a local thugs. He is injured and his employer is killed. Uma is advised by Delhi Ganesh, who handles her divorce petition, to reconsider her plan. She agrees and prays to Thamburati Devi for Kumar's speedy recovery. The goddess intervenes, Kumar and Uma are once again reunited, and they live happily. Kumar opens a school for under privileged children after becoming the owner of the club.
The stunt sequences have been handled really well. The debutants have put up their best efforts in the movie and are refreshing. Director Shakthi has made a decent effort and the film could have been better with a slightly tighter screenplay. The film is a decent credible family entertainer and K.G. Madhavan has tried out some novel angles with cinematography.
Most of the shooting was in rural locations in the first half, while the second half is mainly in Chennai. Veterans Manorama and Delhi Ganesh stand out in performance, as usual! Naal Natchathiram could have been better, as the story is good. Many of the members of the cast are new. A decent effort ensures a smooth sail!