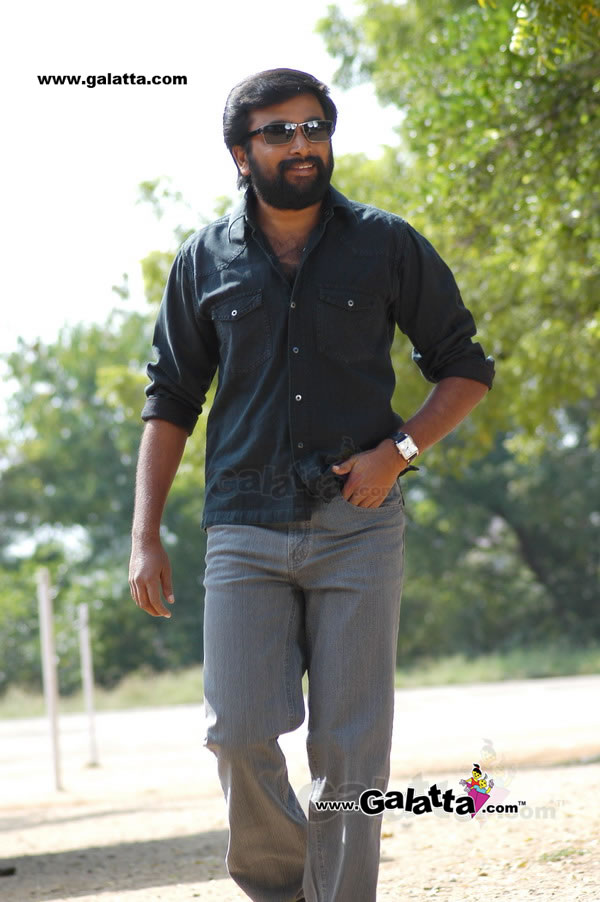 About

Naadodigal
Three friends decide to do whatever it takes to unite one of their old friends with the girl he is in love with which gradually takes a turn for the worst, but strengthening their bond with each other nonetheless.
Naadodigal Movie review
Nowadays, most movies depend heavily on high-end graphics, exotic locations, expensive costumes and loads of visual drama. At such a time comes the movie Naadodigal that does not conform to any of this and yet, comes out as one of the best movies of 2009.
THE CHARACTERS
The main characters in the film are three friends Karunakaran (Sasikumar), Chandru (Vijay) and Pandi (Bharani). Each one is as different as chalk, cheese and chillies!! But they are bonded by friendship. Of course there is the quintessential Athai ponnu (Ananya as Nallamma), the loving sister (Abhinaya as Pavithra) and the friend you always land into trouble (Kanja Karuppu). Added to this are a few not so friendly characters like a high-profile business man and a lady politician (Jayaprabha).
THE PLOT
Samuthirakani has come up with a simple story of friendship, but with an interesting twist and treatment.
Karunakaran, Chandru and Pandi are thick pals. They are willing to kill and get killed for friendship. The true test of their friendship comes when Karuna's friend Saravanan seeks his help to marry Prabha (Shanthitheva), the girl he loves. He even tries to end his life in frustration. Moved by his emotions, Karuna, along with Chandru and Pandi, decides to unite the lovers. Battling the high-profile parents of the couple, they succeed in their venture, but end up paying a very high price for it.
Unaffected by the losses in their personal lives, the three musketeers are happy to have done a good deed. But soon, they realize that all their efforts have been in vain and they decide to recoup their personal losses.
What did the friends lose? Why did their efforts go in vain? You have to watch the movie to find the answers.
THE TECHNIQUE
Performances
It is very hard, rather impossible, to pick the best of the lot. Every single actor has given his/ her all, not only to play the character, but actually BE the character.
Sasikumar is brilliant. His effortless portrayal of Karuna, his love for his girl, the pain and anger he feels when he loses all, is all very real.
Vijay as Chandru is a character we have seen in our everyday lives. His love for his best friend's sister, the anticipation as he waits for his love to be reciprocated, his dedication to his work, his passion for his friends, you can feel all of it.
Bharani is a revelation. He may have debuted in Kalloori, but it is as Pandi that he comes out of his shell. His comedy, pathos, anger and innocent aspiration to fall in love - all evoke laughter and tears.
Debutants Ananya and Abhinaya have done great jobs. Ananya is vivacious and full of life as a bubbly young girl, demure and silent as the sacrificing daughter. Abhinaya gets full marks for her portrayal of the strong-willed young woman who accepts her lover, no matter what happens. Her real life disability (she is deaf and mute) is totally unseen on the screen.
Kanja Karuppu as the friend is too good. His comic timing and straight-faced comments are a treat.
Camera: S.R. Kathiir
Kathiir lets the characters be the main attraction of his frame. The surroundings don't matter; all his focus is on the characters and their emotions. His camera work is crisp and taut. He does not resort to any gimmicks and shows us the story as it should be shown, in a simple and straightforward manner.
Action: Rajasekar
Even though there are several action scenes in the film, not one scene is visually violent. The chases and fights are very real.
Music: Sundar C. Babu
A big positive for the film is its music. At the right places and at the right time, the songs take the narrative forward. Most of the songs are used as montages, thus taking the music and movie to a different level.
Editing: A.L. Ramesh
The editing is another plus for this movie. Adding to all the existing positives. Ramesh proves that the movie is actually made at the editing table. He has presented Samuthirakani and his story in an amazing manner.
Story and direction: Samuthirakani
Hats off to Samuthirakani! He has written a simple story, scripted it well and executed it wonderfully. Every scene is engaging, every emotion captivating, every dialogue worth an encore. An excellent job!
VERDICT:
Does anything more need to be said? Go to the theatre and see this movie, especially with you 'nanbargal' - your dearest friends. And next time you decide to take your friend for granted, think again! After watching Naadodigal, you will!
Cheers to friendship!!
Review by Padma Iyer