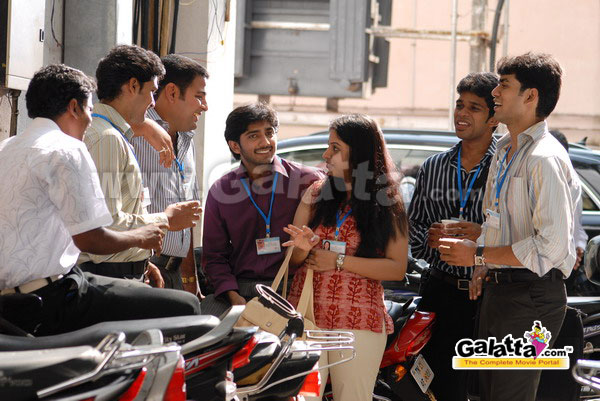 Mundhinam Paartheney Movie review
Seventh Channel Communications, who produced the thriller in Vettaiyaadu Vilaiyaadu and the comedy Indiralokathil Na Azhagappan have now made a youthful lavish budget love story. Targeted at the young urban crowd, Mundhinam Paartheney is trendy and engaging, a breezy, easy watch.
Gautham Menon has created the hugely successful love story Vinnaithaandi Varuvaayaa: now his one time assistant Magizh Thirumeni has opted to go his master's way in Mundhinam Paartheney. The influence of his mentor Gautham Menon is quite evident in his debut work in terms of English dialouges, stylish costumes, etc.
The story unfolds in London, where Sanjay (Sanjay), describes about his dream girl and talks about love. In flashback, we see software professional Sanjay in love with Pooja (Ekta). He tries to impress her in all the ways he can, but his hopes are shattered when he comes to know that she is getting ready to marry an NRI youth. Enter dance teacher Aarti (Pooja), who is modern by looks but is traditional in her ideas. Aarti is very anxious about her dancing career. Though she avoids him and just evades his love, Aarti finally falls for Sanjay. All is fine until Sanjay hears some malicious rumours about her personal life. He becomes very shocked and starts avoiding Aarti. He even makes a mockery of her life in front of others. Insulted, Aarti goes away from Sanjay and slowly, they drift apart.
Now Anu (Lizna), the new project manager at his work place, enters his life. By the time Sanjay recognizes the truths behind Aarti's life, she is too far from him. Will he finally find his soul mate? Watch out in Mundhinam Partheney!
Peppy songs of Thaman aesthetically picturised in exotic locales, the impressive cinematography of debutant Vincent which enhances the feel, and Anthony`s slick editing add more value to the film. Sanjay has hit the target; he has given a neat performance in his debut performance. The characters are well etched; the newcomers lend freshness and conviction to their roles. The three girls fit their roles perfectly.
All the characters in the film have performed their parts well. Magizh Thirumeni has excelled in his treatment. Mundhinam Parthene is fresh and breezy. The director has captured a slice of urban life by depicting the happenings in the life of a group of IT professionals with keen insight and sensibility.
Mundhinam Partheney Photo Gallery