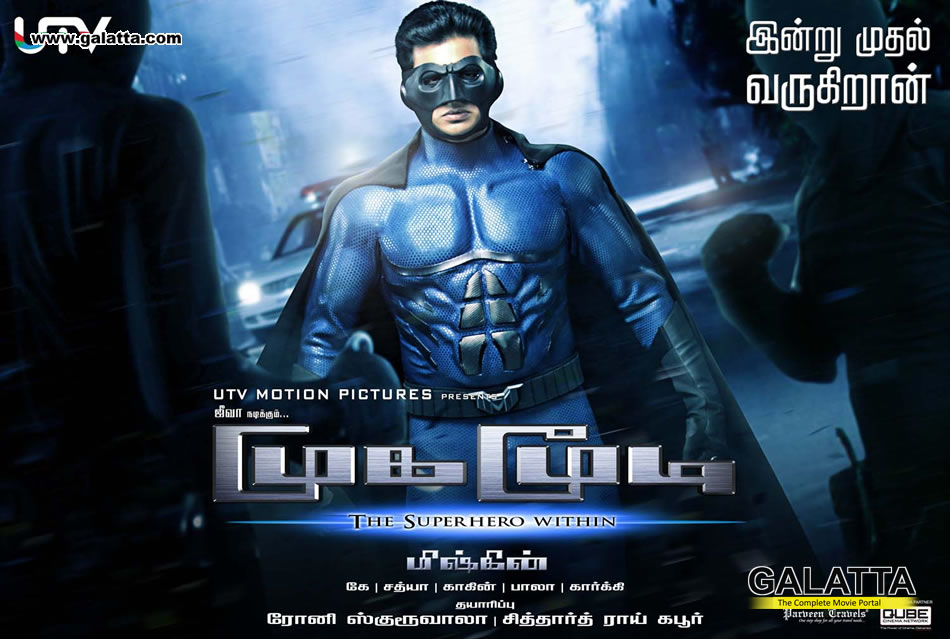 Mugamoodi Movie review
The first superhero movie in Tamil cinema, Mugamoodi has a lot of expectations riding on it. This is Jiiva's first martial arts movie. This is the first time that Mysskin is making a movie with so many commercial elements. Narein turns baddie for the first time with Mugamoodi. The movie also marks the acting debut of Pooja Hegde.
What is it about?
Anand aka Bruce Lee (Jiiva) is a martial arts student. But like all young men, his mind is not focussed on his training. His master (Selvaa) is strict about the training and pushes to be the best. An incident with a rival Kung Fu school, encourages Lee to take his training seriously. Meanwhile he Lee falls in love with Shakthi (Pooja Hegde). She is the daughter of the Police Commissioner (Nassar). An incident forces Lee to put on the mask and become Mugamoodi. With the mask he gets his love, makes an enemy of Dragon, is mistaken to be a murderer, loses his love... in short his life turns topsy-turvy!
How Mugamoodi comes out of all these problems forms the rest of the story.
Performances
Jiiva looks trim and fit and several years younger. His Kung Fu moves are clean and perfect. He fits in the role of Mugamoodi perfectly. Pooja Hegde provides romantic flavour to the movie. She is pleasing to the eye. Narein is a revelation. As Dragon he is a mean machine and extremely convincing as the baddie. Girish Karnad as Jiiva's mentor and grandfather, is a dignified presence. Selvaa and Nassar provide able support.
Technique
The music by K is pleasing, but it is the background score that takes the cake. Mysskin has given us an interesting story. He has presented the story of the masked crusader in his style. The other technical aspects of the movie add a lot of style to the movie.
Verdict
Mugamoodi is definitely a winner at the box office. Go on watch the movie now!