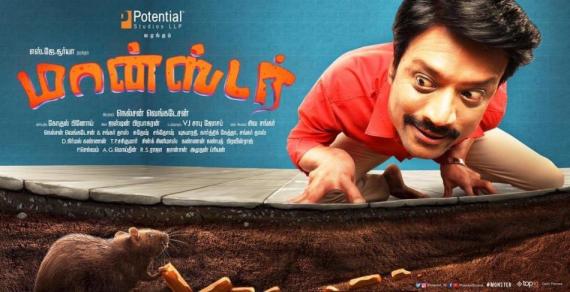 Monster Movie

Photos
View More Monster Photos
Monster Movie review
SJ Suryah, Priya Bhavani Shankar and Karunakaran starrer Monster, produced by Potential Studios LLP, is directed by Nelson Venkatesan of Oru Naal Koothu fame. Music is by Justin Prabhakaran, cinematography is by Gokul Benoy and editing is by Sabu Joseph.
Anjanam Azhagiya Pillai (SJ Suryah) is a man who was brought up with the ideals of peace and believes no life form should ever be harmed, irrespective of whether it is an insect or a pest. He is an Engineer working with the Electricity Board, who is finding it difficult to get a bride. When he decides to buy an own house, finally things seem to look up for him as he finds a potential suitor in Megala (Priya Bhavani Shankar). However, the house has another unlikely inmate - a rodent! Anjanam's life turns hell when the rodent wreaks havoc and he driven up the wall, not knowing what to do. Watch Monster to know how things unravel from there...
Director Nelson Venkatesan, who debuted with the super hit Oru Naal Koothu is back for his second venture, with a fantasy comedy. The very premise of Monster has a lot of scope for fun and comedy and the director shows that it can be all of this and a lot more. Seeing SJ Suryah playing the very calm, sedate and humane Anjanam Azhagiya Pillai is very refreshing after his streak of fiesty roles in recent times.
He has done a very good job and proves himself as an able performer, yet again. Priya Bhavani Shankar looks ravishing and her cute expressions add to the role of Megala. Karunakaran travels alongside SJ Suryah throughout the movie and his timing comedy and witty repartees work for the most part.
The rest of the characters do not have much to do but have provided able support to the lead cast. The writing by Nelson Venkatesan and Sankar Dass is good and they have explored different angles to a very common issue of rodent infestation. The movie takes some time to gather steam but moves at a good pace once it takes off. The comedy has worked in most places in the second half but is not all that engaging in the first.
Logic should not be expected in a fantasy movie and is naturally found lacking in a couple of places. The beautiful relationship between a young couple about to be wed, has been portrayed beautifully, especially without hampering the core of the story.
Monster's biggest plus has to be the cinematography, which is top notch. The POV shots of the rat, have been canned wonderfully and special kudos to the DoP Gokul Benoy. All visuals of the rat have been presented amazingly and the VFx and CG work are too good. Justin Prabhakaran's music goes with the flow of the movie except at times where it seems mildly overbearing.
The overall length of the movie can definitely be shorter as a crisper movie would engage audiences better. Children would love this Mouse & Man chase, where at times we are not sure who is chasing whom.