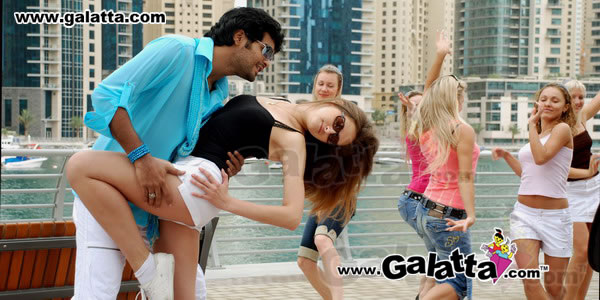 Modhi Vilayadu Movie review
Modhi Vilayadu is the eleventh film by hit maker Saran, known from his stunning debut with Kadhal Mannan (1998), followed by super hit Amarkalam (1999), Parthen Rasithen (2000), Gemini (2002), Jay Jay (2003) and Vasool Raja MBBS (2004). His latest presentation is Modhi Vilayadu, starring Vinay and Kajal Agarwal in the lead.
The film begins with Rajan Vasudev (Kalabhavan Mani), a typical multi-millionaire and chairman of OPM companies, whose habit is to take over smaller companies by buying the majority of their shares, thus building his empire. In one such instance, Rajan Vasudev takes over a rapidly growing company and sacks its young chairman, who later hangs himself in a lift. Disturbed by this, the chairman's uncle decides to extract revenge and buys the services of a professional to kill Rajan Vasudev's only son Uday Vasudev (Vinay).
Uday Vasudev is a happy going youngster, always surrounded by his personal assistant Anand, security official Alse and other security guards. One day, when Uday is driving his Ferrari, a Pepsi can falls on his head, causing him to lose control and he rams his car into an electric post. Uday thinks I.R. Iswary (Kajal Agarwal) has thrown the can at him and demands a compensation of three lakhs for the damaged car. Iswary tries to convince him that it was an accident and refuses to pay the amount. But when Uday threatens her, saying he would complain to the police and her father, she agrees to pay the amount by serving as a maid in his house during her vacation. Initially, Iswary tries to lock horns with Uday in his house, but later falls in love with him.
In the meantime, the assassin has been observing Uday's activities and is waiting for the right time to fulfill his contract. Finally he gets a chance, but accidentally kills Anand instead of Uday. During the second half, it is revealed that Anand is the real son of Rajan Vasudev, not Uday! It is then that miseries fall upon Uday. How Uday faces the fact that he is an orphan and overcomes his troubles, including the life threat by the assassin, forms the rest of the film.
The major plus points of Modhi Vilayadu are its music, composed by the popular Colonial Cousins (Hariharan and Leslie Lewis) and cinematography. Modhi Vilayadu is the debut venture by the Colonial Cousins who have emphatically proved their musical mastery through the five songs in this flick. Cinematography of songs and sequences at foreign locations are impressive and worthy of praise.
Vinay and Kajal Agarwal are good actors, but their performances in this flick lacks the usual fervour we see from them. But they have tried to do their best. Of course, they deliver dialogues and gesture, but the emotions could have been better. Kalabhavan Mani as a typical father and millionaire. But his role is not as meaty as we would expect it to be. Santhanam antics are okay. Newcomer Yuva, who is a fun and jolly guy in real life as played a serious and sober role decently well.
Technically, the film is fine, but the script could have been better etched. The first half could have been a bit more taut, but the movie manages to gain some ground in the second half. So if the negatives don't bother you, the movie is worth a watch.