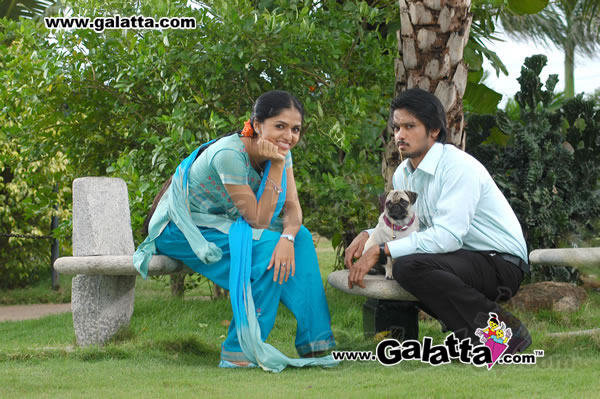 Masilamani Movie review
Masilamani is the next venture from Sun pictures, with the same lead pair of Kadhalil Vizhundhein. The chemistry between Nakul and Sunaina is intact and the film is a treat to watch, as the lead pair manage to infuse a lot of energy into their performance. Nakul is very spontaneous and Sunaina fits into her character without a doubt. The film has been doing very well ever since it opened.
It has a great storyline that does not strain one's sensibilities, and is a clean entertainer. The first half is largely fun-filled. The story takes time to get going, but soon picks up. There are many humorous lines involving Santhanam which make the audience rolle with laughter. The flick follows the current rage of spoofing scenes and songs from popular films of Sivaji Ganesan, Rajinikanth and Kamal Haasan. Scenes where Karunas takes M.S. Bhaskar for a ride by promising roles alongside great actors in films evoke a lot of laughter.
Nakul and Sunaina, the lead pair have done a very convincing job. Masilamani (Nakul) is an orphan who lives with his sister in a small colony besotted with civic problems. Pazhani (Santhanam), his very close friend, often gives him the right ideas at the right time. Masilamani, also known as Masi or Mani, comes in contact with Divya (Sunaina) one day and it is love at first sight.
Divya does not know that Mani is the same person whom she encounters as a rowdy on the road. Mani is loved by everyone in his colony and is a champion of women. Mani does not tolerate any kind of atrocities committed against women and hence decides to teach a lesson to those who create problems. But Mani has a tough task proving himself to Divya. Why? Because Divya gets to see him as a problem-creating rowdy of the city every time she meets him. In order to prove that he is good at heart and a worthy individual, Masi becomes friendly with Divya's family in her absence. So every day Divya gets to hear a lot of good about Mani (Masi) from her entire family.
Divya gets a doubt if Mani is the same rowdy she encounters frequently. Mani somehow convinces her that he is only a lookalike and takes her out everyday. But this is when Bhoopathy (Pawan) enters as a police officer out to prove that Mani and Masi are the same. He creates difficult scenarios where Mani is forced to come out with the truth. But Mani somehow manages effectively without Divya learning the truth.
How he manages to win her over completely and marry her in the end forms the climax. D. Imman has put his notes forward and come out with some very good tunes. Audiences can expect 'Chikku Chikku Boom Boom' sung by Keerthi Sagathia to be a peppy number. Also, 'Odi Odi' is a foot-tapping number which will soon be played across many clubs and house parties.
The film will do very well especially in the B and C centres, and director Manohar has proved himself with his directorial debut. The film, with a simple script and interesting screenplay, has many funny moments and is very enjoyable. M.S. Bhaskar seems to steal the show with an equally spirited performance from Santhanam.
Cinematography is decent and stunt sequences have been worked out very well. Nakul excels as a dancer, actor and has every sign of being portrayed as an action hero.
Masilamani will sweep you off your feet and comes as a welcome relief. Way better than some of other recent releases, it is indeed a breezy entertainer.