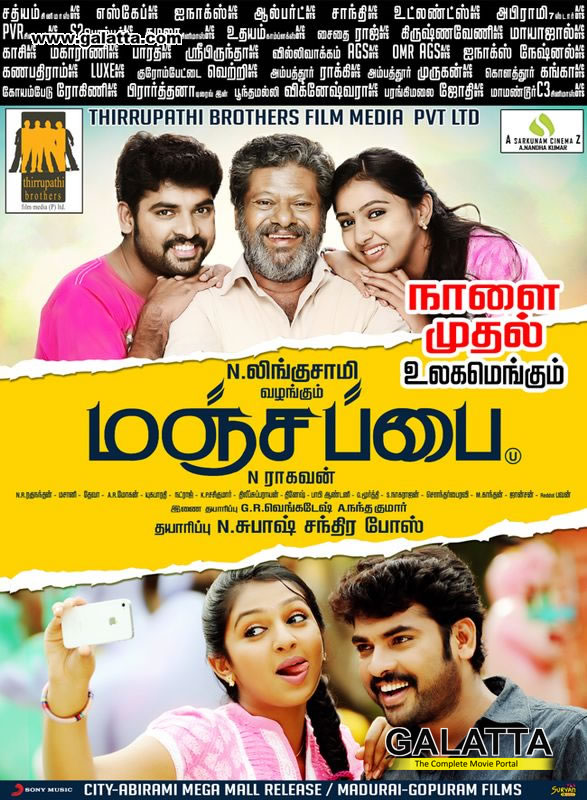 Manjapai Movie review
Produced jointly by Thirrupathi Brothers Film Media Pvt. Ltd. and A Sargunam Cinemaz, Manjapai directed by Raghavan (a former associate of director Sargunam), stars Vemal, Lakshmi Menon and Rajkiran in the lead and has music by SR Raghunanthan.
The movie begins with the story of how a caring grandfather Venkatasamy (Rajkiran) raises his little grandson Tamil, who has recently lost both his parents. The movie moves forward 25 years to show a grownup Tamil (Vemal), a successful software company employee in Chennai. He has his aims set on getting an offshore posting in the USA and tricks his way into getting an opportunity from his office. At a signal, he meets Karthika (Lakshmi Menon) - a medical student, and falls for her at first sight. He follows her around, and seeing his honest and caring nature, she too falls for her. Tamil is informed that he has 3 months to leave for the USA. He decides to bring over his grandfather from the village to be with him till the time he leaves the country. The good natured and caring grandfather just seems unable to fit into the city life and gets into a lot of trouble with Tamil's neighbours and the cityfolk in general. These situations are very comical and heartwarming in nature. However, Tamil's grandfather's nature causes a lot of embarrassment and issues for him. But, his love for his grandfather overcomes it all. But, when the things get out of hand, and Tamil ends up losing his US offer as well as the love of his life, will the love for his grandfather prevail, or will frustration take over? What will happen to Tamil's love? Watch Manjapai to know all the answers...
Director Ragavan has taken up a very sentimental premise to tell his tale. Relationships are always very deep and multi-layered and this tale of the relationship between a grandfather and his grandson has all these layers, clearly etched. The first plus for the movie is the casting, and another major plus point are the dialogues, which are to the point and at times self-deprecating, making it fun viewing. Vemal shows that subtle performances are his forte and he aces it again. Lakshmi Menon breezes through her role. However, the star of the movie is Rajkiran and shoulders the whole movie's progress very easily. He has delivered an absolutely wonderful performance. SR Raghunanthan's music stands out and 2 of the songs will remain in your memory for quite some time, even after you leave the theatre. The support cast is huge and they give good support to the leads. Kadhal Saravanan has gotten a meaty role and has done well. LMM Swaminathan and Kumki fame Ashwin are also good. Yugabharathi's lyrics need a special mention. Veteran SPB has rendered the 'Agasa Nilavu' number very soulfully.
Manjapai is a touching tale of sentiment and relationships that will tug at your heartstrings for sure.
Written by,
Mohan. K
DISCLAIMER: The views expressed in the review are solely that of the writer and not that of Galatta Media.