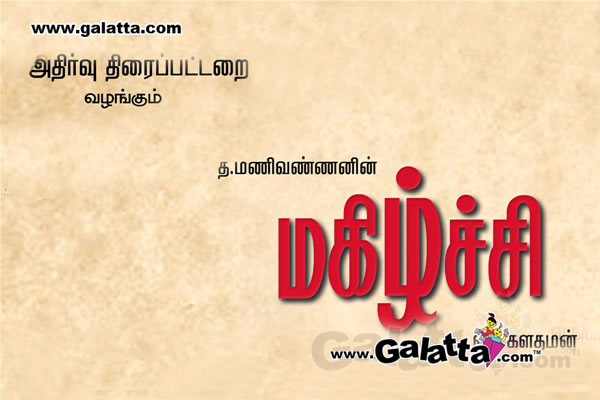 Magizhchi Movie review
Magizhchi is an adaptation of Tamil writer Neela Padmanabhan's 1968 novel 'Thalaimuraigal' that explores a strong love and bonding between a brother and his sister. Director V. Gauthaman, who is known for producing the controversial TV series on forest brigand Veerappan and Auto Shankar, has taken his maiden step in direction and acting with Magizhchi. Deciding not to make it an exact film adaptation of the novel, director Gauthaman has also included the power of love in a family, narrow caste prejudices and the submissive state of women in our society as the other prime elements in the movie.
The movie opens in rural Kanyakumari in a closely knit caste driven community. Thiravi (director Gauthaman) is an aspiring school teacher and the most lovable member in his family. His family comprises his grandmother (Sukumari), father, mother and three sisters. Thiravi is in love with his bubbly cousin Kuzhali (Anjali) and dotes on his sisters. Thiravi, awaiting placement as a school teacher, works in the family agricultural land to feed his family.
Thiravi's close friend is Kutraalam (Seeman), a rebellious short tempered man from a lower caste. His closeness with Thiravi is an irritation to the community elders, who try to belittle him by mentioning his caste. Kutraalam adamantly snubs the elders for their narrow mindedness. Thiravi's life rolls with happiness and unbounded affection from his sisters and Kuzhali. Enter Sevatha Perumaal (Sampath), a trader in their village, who offers to marry Thiravi's sister Naagammai (Karthika). The family is happy with the proposal as Perumaal is a rich man in the community. Thiravi is content that his sister would lead an affluent life.
During the engagement, Perumaal's mother demands a huge sum as dowry, which shocks Thiravi and his family. Thiravi, who is reluctant to back off from the alliance, suggests they sell the family agricultural land for arranging the money. The suggestion is not welcome in the family, but Thiravi goes ahead with his decision, reasoning that there is nothing more valuable than his sister's marital life. Naagammai is married and leaves to Perumaal's house. Perumaal's initial nature tends to be deceptive as he turns out to be an abuser. His mother too is manipulative and encourages Perumaal to abuse Naagammai. Reminded by the fact that her family spent a fortune marrying her off, Naagammai takes the abuse and humiliation without protest. Subjected to more abuses and humiliation, she attempts to kill herself, but in vain. Perumaal, angered with her suicide attempt, drives her away to her house alleging she is infertile. Thiravi's once happy family is in agony as Naagammai is separated from her husband, who is reluctant to take her back into his life.
Kutraalam is angered with these atrocities and suggests they confront Perumaal, but Thiravi dismisses it, saying that they should be patient, as it is a woman's marital life at stake. The marital issues of his sister stand in the way of Thiravi's marriage with Kuzhali, and he keeps postponing it. Kuzhali's father gets impatient and threatens to call off the alliance, saying that Thiravi's sister is such a burden to the family. Thiravi, angered with Kuzhali's father's remarks, breaks off his relationship with Kuzhali. Kutraalam, witnessing all the troubles faced by his friend, offers to marry Naagammai. His proposal shocks Thiravi's family and the community. Will Kutraalam be able to marry Naagammai braving the opposition from the community and her ex husband? That will unfold in the climax.
Director Gauthaman has acted and presented a tale about simple men and woman from our villages. The screenplay has no flaws but the story is archaic. Brother-sister affection and the brother's pain when the sister leaves to her in-laws' house remind us of an abundance of movies made in Kollywood. Cameraman Chezhiyan deserves accolades for bringing the serene villages and paddy fields from Kerala-Tamil Nadu border on screen. Viewers are sure to appreciate dialogues presented in the right Kanyakumari Tamil. Gauthaman and Karthika as siblings excel in their portrayal of affection for each other. Seeman shines as a rebel who fights some of the evils that haunt our society today. A clean family entertainer and no vulgarity, Magizhchi shows the power of love with a story as old as love itself.
Petson Peter