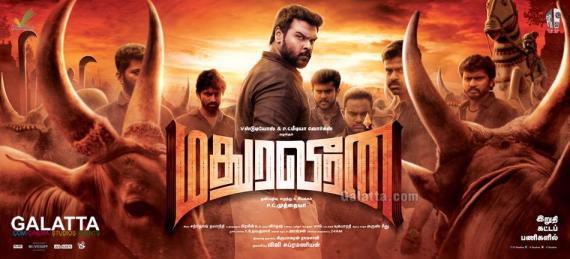 Madura Veeran Movie review
Madura Veeran, an action-drama written and directed by cinematographer P. G. Muthiah stars actor Vijayakanth's son Shanmuga Pandian and Meenakshi in lead roles with Samuthirakani, Vela Ramamoorthy, Mime Gopi and others in supporting roles.
Creating a story around a specific theme can be daunting at times and the task is tougher when it is centered around a traditional sport as Jallikattu since a lot of sentiments are involved.
Madura Veeran is primarily a story about Jallikattu and the unity of the people. The story starts off showing Shanmuga Pandian as Samuthirakani's son, who is a well-respected individual wanting to help all those around him and also passionate about Jallikattu. However, the sport is not conducted as a result of few conflicts such as caste violence and sporadic incidents between people of the villages putting a stop to it from being organized.
In the midst of this, Vela Ramamoorthy and Mime Gopi create problems for Samuthirakani. However, conflicts also exist between the former two and there is no unity among them after a life-altering incident. Up until this point, it is revealed that all these incidents are narrated in the form of a flashback.
Shanmuga Pandian is then shown to have come back from Malaysia and is determined to bring back Jallikattu to his and neighboring villages along with his friend Bala Saravanan. It is at this point that last year's real life Jallikattu protests are incorporated into the story with Shanmuga Pandian also participating for the revival of the sport. All the while, there is a mystery that is being teased about a killer in the story, who has his own motives and the plot shuffles between these incidents and Jallikattu.
Cinematographer PG Muthiah's directorial debut Madura Veeran has a simple plot and has attempted to give a film that lays emphasis on Jallikattu and why it means so much to Tamilians. However, his execution in the first half of the second half of the story takes a hit and gets a bit dragging. He does make it up quite well when he introduces few good twists, which turn out to be the USP for the film.
Although Shanmuga Pandian is the lead, his character could have had more depth. There is a minor improvement in his histrionics in comparison to his previous film. He has a towering presence and is seen looking angry for the most part, which he could done away with. Meenakshi, who is the heroine has no real job in the film and has relatively a short screen time. Madura Veeran has an ensemble supporting cast Samuthirakani, Vela Ramamoorthy, Mime Gopi, G. Marimuthu P. L. Thenappan, Bala Saravanan and they done their jobs in an amicable manner.
On the technical front, the action sequences although quite good, lacked the definitive punch at certain occasions. Santhosh Dhayanidhi's songs are average, but he kicks it up a notch in the background score. For a film that focused on Jallikattu, the editing will require sharp cuts, which Praveen K. L. has achieved.
Thumbs Up

Jallikattu scenes have been shot well
Samuthirakani comes on top yet again with his acting
Background score compliments the narrative

Thumbs Down

The first half of the second half is a drag
Heroine has little screen time