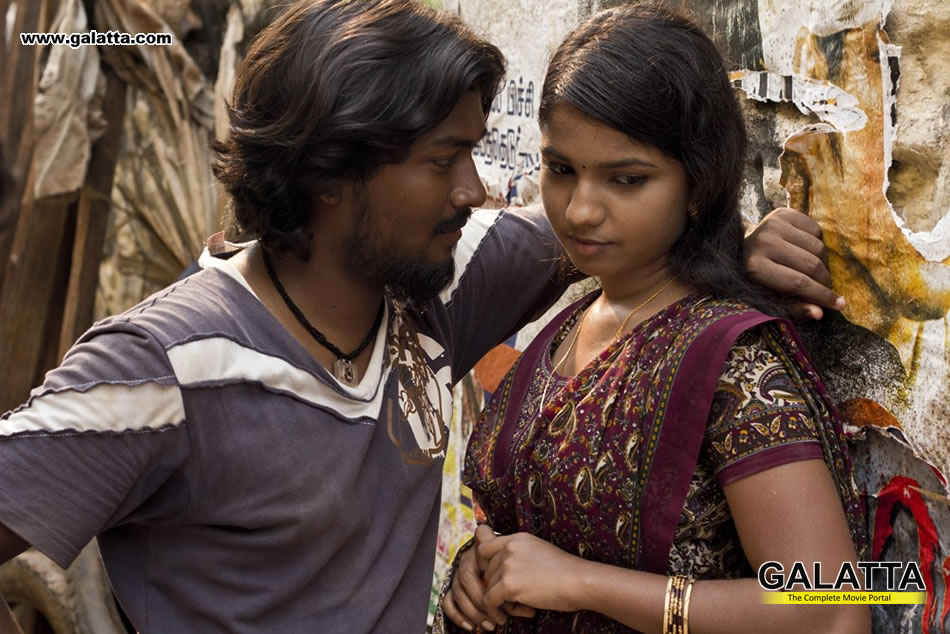 Madhubaanakadai Movie review
Madhubaanakadai is a new-age Tamil movie starring N T Rajkumar, Karthikvel, Aravindh Annamalai, Dhiyana, Ramu, Ravi, and Nandhakumar. Directed by Kamala Kannan and cinematographed by Baskaran, this movie is set in TASMAC liqueur bar, in Erode district. One will have to think all his life to tell if this movie had any story line. The bar itself is the protagonist here! The film moves with the daily routine of the characters, and also deliver quite a few social messages.
The Characters: It is not an easy task for a new face to be liked by the audience, and there are quite a few new faces in this movie, who have certainly impressed one and all. The roles played by Rajkumar (as Petition Mani) and Ramu (as Singer) has been very well accepted by the people. Though the love track between bar employee Rafique (played by Karthikvel) and bar owner's daughter Aishwariya (played by Dhiyana) looks a bit old fashioned, the unique relationship between Rafique and his colleague Murugesan (played by Aravindh), is certainly the one to watch out for in this mini budget movie. The director has involved quite a lot of characters in the ambiance, which has added a lot of colour and depth. Appreciably, the inexperience of the cast doesn't show up more often. On the negative side, it looks like the director didn't concentrate too much on the minor roles, which at times looks very immature.
The Screenplay: This movie has river-water kind screenplay, which flows with constant pace throughout the film, with few twists and turns. The director has given equal priority to all the main characters, and they come in a predictable yet pleasing pattern. At times it gets bored to see the romance, but the director has done the smartest thing by leaving the love track aside half way through the movie, and later bringing it back in the climax. The dialogues are the most valuable asset to this flick, as a lot of alcohol related social messages chip out every now and then, with a great deal of humour. After all, a movie needs an end, and that's how it is here. The ending is predictably bland, yet has satisfied the demand of the movie, rather opting for an ultimate show down.
Technical assessment: Baskar has done a commendable job with the camera in his hand. It was never an easy task for him to handle the set filled with a lot of glossy properties (plastic and glass items). The lighting was good, and the lack of time and budget more often showed in the very few out-door shots. He has certainly cached in on the advantages of the digital filming technology as well. The background score and the songs have offered a lot too. Music director Vedh Shankar, with his instruments has created subtle yet effective music.
The Verdict: Worth watching!