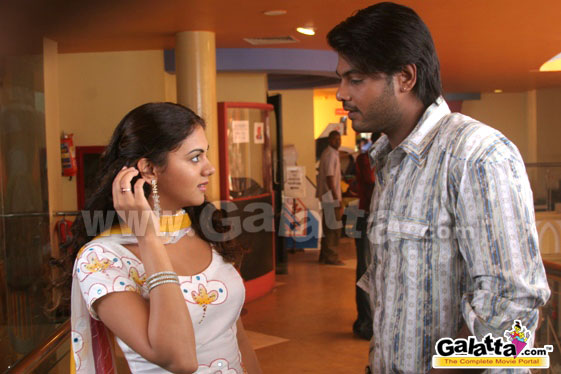 Machakkaaran Movie review
A majority of audiences walk into theatres with mounting expectation to see yet another stunning role by Jeevan in his Diwali offering, Machakkaaran. Of course, Machakkaaran presents Jeevan as a soft romantic hero instead of his usual bad-guy role. But the surprise ends there!
Vicky (Jeevan) is the eldest son of a Railway officer (Vinod Rajan). Vicky faces ill-luck in everything he attempts. One day, he helps a couple to start their motorcycle; as a result of this Good Samaritan act, circumstances land him in the police station.
Shivani (Kamna Jethmalani), the pretty heiress of a rich business family, witnesses Vicky's predicament and rescues him from the police. Both of them grow fond of each other.
Shivani manages to convince all her family members, except her father (G.M.Kumar), of their relationship. Her father's severe opposition forces the lovers to choose a different decision. Vicky challenges the family and carries Shivani off to her father's native place (a quiet village), to sort out the problem concerning their lives.
How Vicky escapes the tricky traps set by the influential rich man and how he churns something good out of his own life forms rest of the story.
Jeevan and his charming innocence delivers the essence of his characterisation. Kamna, as a girl who does not have any ambition in life other than helping out hapless Jeevan, infuses some energy into the frames.
But that does not seem to be enough to keep the audience engrossed. Director Tamizhvaanan has tried to portray Jeevan in a refreshing role, but the screenplay lacks the necessary interesting elements to achieve this objective.
Santhana Bharathy and Kalai Rani (as Kamna's paternal uncle and aunt) have given fitting performances. Santhanam, M.S. Bhaskar and Mayilsamy offer relief through their comedy. A. Venkatesh's camera work does its share of magic, traveling across cityscapes and lush countrysides. Yuvan Shankar Raja's music has produced some enjoyable numbers.
After Kakka Kakka,Thiruttu Payale and Naan Avanillai, it is definitely not Jeevan's best. Nevertheless, it is just another stepping stone in the actor's long road to success and fame.