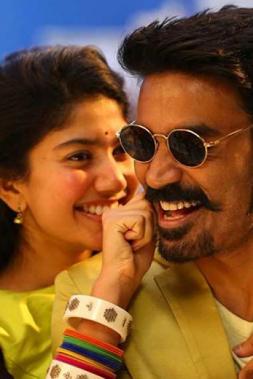 Maari 2 Movie review
Tovino Thomas (Beeja), a jail convict tries to kill Dhanush (Maari) who is a gangster in Chennai. The reason behind his revenge and what happens after they meet forms the remaining story.
Dhanush's screen presence is exciting in the high voltage situations, and he also impresses as a performer in emotional moments. Tovino Thomas seems to be odd for the villain role as his characterization looks artificial and the staging as well. Krishna is decent as the protagonist's friend, but his role makes no big difference to the script. Sai Pallavi is truly the show-stealer, her character is funfilled, performance is solid and presence is exhilarating. Robo Shankar and Koloori Vinoth strike once again as the hero's sidekicks with their witty counter dialogues. Varalakshmi Sarathkumar's role has less importance and thus she does not create a big impact.
Yuvan Shankar Raja's songs are good and the three numbers which appear in the movie are smoothly placed. But, his background music is appealing just in one or two places and it falls as a disappointment when compared to the first part. Om Prakash's camera work is neat and the colors are smartly mixed, the slow-motion shots are well conceived. Prasanna GK's editing is middling, repeatedly showing the flashback shots drains out the feel of the conflict.
Director Balaji Mohan has bettered the quality of the script when compared to its prequel. But, it feels like there are plenty of sub-plots and the progress finds it difficult to prioritize. He has worked out the comedy and romantic portions very nicely, both work out big time in the form of entertainment. But, the mass heroic moments could have been presented in a better manner with satisfying situations. Engagement value is decent till halfway, but it settles on the ground-level post that. Dialogues are sharp and a few are clap-worthy as well.
Rowdy Baby is a complete dance fest and the excitement it offers is infinite. The same incident is interlinked with many perspectives lead to repetitive feeling. The flow becomes slow after a point as the characters and their motives are introduced too early. A couple of serious scenes are intense and a few are fun too. The second half is flat and the exciting moments are very low, especially the first thirty minutes after the break is sensible but it appeared to be a speed-breaker as the progress was slow. And, the long-drawn-out informer play towards the end lacks substance.