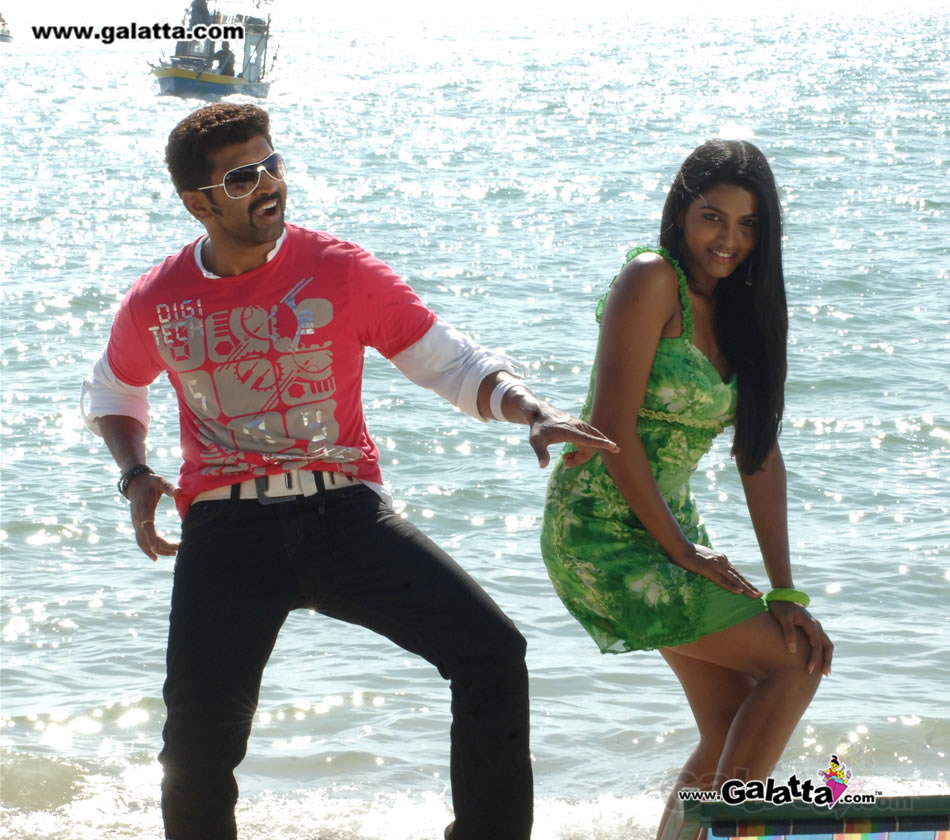 About

Maanja Velu
Maanja Velu story is about an honest cop (Karthik) and his younger brother (Arun Vijay), who put an end to the atrocities of a dreaded gangster.
Maanja Velu Movie review
After tasting success in Malai Malai, the Arun Vijay-Venkatesh duo is back with another action entertainer Maanja Velu. 'Maanja' is the gluey mix of glass powder and other stuff rubbed on the string of a kite. It is used to cut the strings of rival kites, but if handled wrongly, it can cut you. This forms the basic plot. Yesteryear heart-throb Karthik is making a comeback of sorts with this movie. Prabhu, Ganja Karuppu, Santhanam and others form the supporting cast while Mani Sharma has scored the music. The movie is inspired by Telugu blockbuster Lakshyam starring Jagapati Babu and Gopichand.
What is it about?
The movie unfolds in Tiruchirapallai, where Maanja Velu (Arun Vijay) runs a canteen in the college where he studied and has a happy family-brother Subash Chandra Bose (Karthik), sister-in-law (Anu Haasan) and journalist father (Vijayakumar). After a few initial encounters, Velu falls in love with a college student Anjali (Dhanshika).
Bose is a sincere police officer and always acts tough against any lawbreaker. Enter the villain! Umapathy (Vagai Chandrasekhar) is a goon and always commits crimes without leaving any evidence or clue.
Umapathy swindles Rs. 100 crores from a chit fund firm with the help of a politician. Bose tries to stop all of Umapathy's plots and kills his men in encounters. Umapathy then plans a conspiracy against Bose and kills him. Velu keeps Bose's death a secret and bashes Umapathy's men to know the conspiracy behind Bose's death. The film ends with Velu extracting full revenge from Umapathy and his men.
The Performances
It is tailor-made story to perfectly match Karthik (who is back after a gap) and the performance is a cakewalk for him. His boldness in accepting a role which would end in death needs to be complimented. This is probably one of the best comebacks in Kollywood!
Arun Vijay excels in all areas. He showed good ease in action scenes as well as in dances. Comedy by Santhanam, 'Lollu Sabha' Manohar, Ganja Karuppu, Ganja Karuppu and Shakeela is one of the best comedy tracks in the recent past.
Dhanishika filled the glamour slot and had no big role to play.
Vagai Chandrasekhar's performance needs special mention; Veteran actor Prabhu does a fine cameo as a police officer; Mani Sharma's music is another highlight of the film. The first half runs smoothly but the second half turns too serious with revenge drama. The technical crew has supported the movie well, especially Venkatesh's camera and Kanal Kannan's stunts. Maanja Velu is an entertainer that will satisfy all types of audiences.
On the whole, the film is a fine blend of action, comedy, romance and sentiments, a perfect mass entertainer!