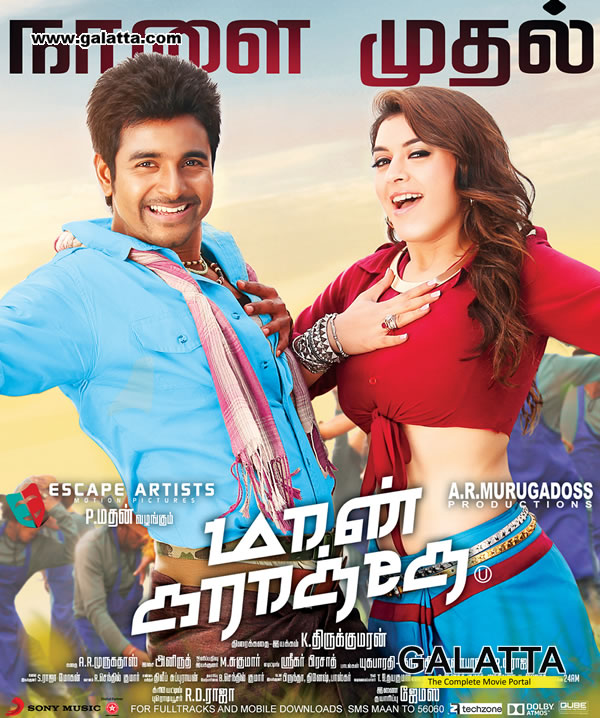 Maan Karate Movie review
Maan Karate, starring Sivakarthikeyan as Peter and Hansika as Yazhini, is directed by Thirukumaran and produced by AR Murugadoss Productions and Escape Artists Motion Pictures. This movie, also starring Sathish and Soori, has music by Anirudh.
A group of five friends, who are software engineers come across a hermit while on a vacation on a mountain. The hermit gives them a boon. To test the hermit, one of the guys Sandy (Sathish) asks the hermit for a newspaper for the day after Ayudha Poojai (when no newspapers are generally printed). The hermit gives them the newspaper! The friends who are initially skeptical, and consider the newspaper to be a sort of tell-all when surprisingly the news in it becomes reality!
In one of the news items, they read about Peter (Sivakarthikeyan), a guy from Royapuram. The news says that Peter has won a major boxing tournament with a cash prize of Rs. 2 crores. The friends decide to find him. Much to their astonishment, Peter does not even know boxing. They decide to train him and make him a boxer and a winner, their motive being the prize money. Meanwhile, Peter meets Yazhini (Hansika), a sports enthusiast and falls in love with her, but she is not interested in him. When the five engineers make a reluctant Peter train, they come to know that there is another boxer named Peter (Krishna Vamsi) - The killer, a true champion. Meanwhile, without even throwing a punch of fighting, Peter (Sivakarthikeyan) uses his funny skills and with a huge dose of luck, becomes very famous - and gets called Maan Karate Peter. Have these five engineers backed the right Peter? What will happen to Hansika when she knows her lover Peter is really not a boxer? Who gets the Rs. 2 Crores? The engineers make one right and one wrong choice... Which is right and which wrong? Watch Maan Karate on the big screens to know...
Director Thirukumaran has taken a simple yet inspiring tale and woven a comedy-laden screenplay. The story of how love can transform anybody has been wonderfully showcased, though the treatment could have been better, as logically a few things go missing. Sivakarthikeyan has shown his penchant for breezing through light roles. However, his role as Peter has both light and intense portions and he has performed well in both. Hansika is pretty as ever and makes a perfect foil for Sivakarthikeyan. Sathish is good in his role that has depth. Soori does not have a lot of scenes, but his comedy shines in whatever few scenes he comes in. Anirudh's music and BGM are good and is a major plus for the movie. The cinematography is excellent and especially the visuals in the song sequences are very vibrant and pleasing. The veteran Ashish Vidyarthi could have been used better. The comedy stands out throughout the movie and keeps the viewers engaged.
Maan Karate is a lovely romantic story laced with comedy!