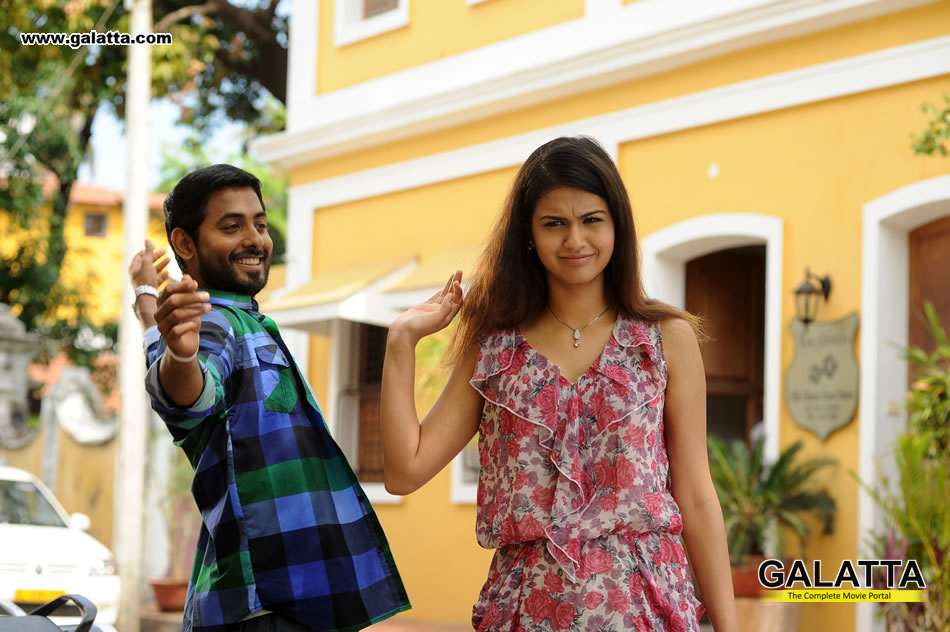 Maalai Pozhudhin Mayakathilaey Movie review
Maalai Pozhudhin Mayakkathiley, just as the title suggests is a lilting tale of love, blossoming in the heady time of twilight! The whole movie is set in a coffee shop, and surrounds the happenings in a few hours in the life of the people in the shop! Hero Ajay is an aspiring director, who meets Jiya, when he takes refuge from a torrential downpour, at a coffee shop. Sathish, his wife Ramya and their son Vishnu arrive at the same shop. Ramya suggests that she and Satish divorce, as she doesn't like the way, their The manager of the coffee shop has mounting problems of his own. How the lives of the people changes in the time they are inside the coffee shop, forms the rest of the story.

The casting is perfect, but the actors let down with their performances. Nothing much to blame them though, as there is very little in the script, besides just sitting and talking. There have been many movies which have revolved around happenings at a single place, but this movie dissappoints! There sure could have been a lot more depth in the movie, with more scope for acting. Sathish has to be commended for his role. Panchu Subbu is absolutely perfect, as the cafe manager! It is the 2 servers in the cafe, who take the cake, though! The comedy relief given by them, is a major relief!

The visuals are very rich, and pleasing to the eye. A special mention has to be made of the cinematographer for his lovely angles! The director could surely have worked to make the script a lot tighter. There is a lack of depth in the storyline too. These things have left the actors with very little to do, and they cannot be blamed much!

The movie opened in such a way that it promised to be along the likes of Unnale Unnale, but it just failed to live up to that promise! Maalai Pozhudhin Mayakkathiley is worth a watch, if you like people sitting and talking a lot about love and life!