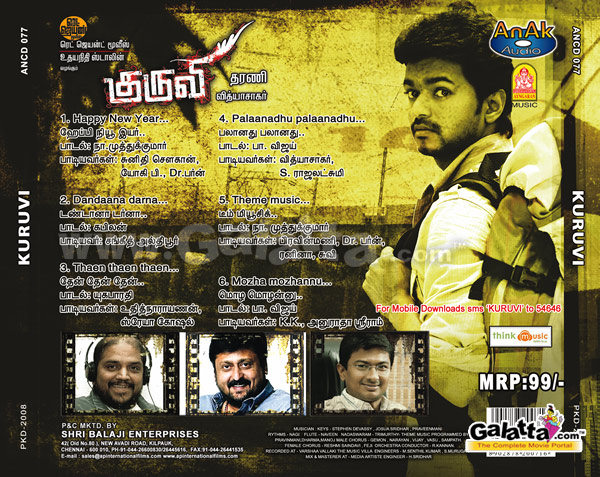 Kuruvi Movie review
What happens when a commercially successful team comes together for the second time? Hopefully, success should be come first and foremost; in addition, there will be a promise of better pure entertainment. And that is what we experience when we go to see Kuruvi by Red Giant Entertainment Pvt. Ltd. After all the hype and hoopla, the nuggets of information that kept leaking to the media about the exceptional project, Kuruvi awards viewers with a satisfactory feeling of enjoyment, of time and money well-spent. The wait was worthwhile! Can Ghilli be bettered? Yes, and Kuruvi is the proof!
Vetrivel (Vijay) is a fun-loving young man who takes care of his family in his father"s (Manivannan) absence. Car racing is his favourite hobby. He and his inseparable comrade Ops (Vivek) make a deadly duo. Their carefree life is disturbed when the house-owner asks Vetrivel family to vacate the house since their rent is overdue. On enquiry, a shocked Vetri learns that rent payments have been irregular since some months. Discomfited at the confusion and chaos, Vetri investigates why his father could not pay the rent; he unearths the devilish dealings of a don Koccha (Suman) and the functioning of his entire network.
Finding that Koccha is based in Malaysia, Vetrivel and Ops fly to Malaysia, as 'Kuruvi' (small bird), the trade jargon for low-level contraband carriers. He steps into the group at a time when internal rivalry and problems are surfacing in Koccha's family. Koccha's darling sister Devi (Trisha) has refused to marry her cousin, the boy approved by her family members. Irritated and preoccupied, nobody wants to devote any time or attention to resolve Vetrivel's problem. Vetrivel is abused, harassed, suffers more ill-treatment and is thrown out of Koccha's place without any help rendered. These callous actions enrage the young man. Totally enraged, with a do-or-die attitude, deciding to get his work done no matter who gets hurt, Vetri becomes a veritable suicide machine and launches into a terrific scuffle with the dangerous gang. Determined to return only after the issue is solved to his satisfaction, motivated by an urge to reveal the truth, Vetrivel conceals himself in Koccha's palace-like residence.
Outside, the whole world is ready to welcome yet another New Year. Festivities and a feeling of happiness and anticipation envelop everybody. For Vetrivel, it is a different feeling of celebration, one of achievement and victory. Armed with convincing proof to trap Koccha, he steps out of the dangerous dwelling and there, finds company in the form of Devi. With a quick change of plan, he adds Devi too in his plan; when the New Year begins, Vetri, Ops and Devi fly away from Malaysia.
What is Vetri's plan? What is the proof Vetri has and how does he use it against the powerful don? Of Vetri, Devi and Ops, one is used as an instrument to import a precious belonging, the outcome of Vetrivel's camping at the Kocchas. What is this belonging? Who is it? Does the bearer know about it? Do Vetrivel's findings solve his financial problems or is there more to the scam? Does his attack extricate the long-term sufferers under Koccha and Konda Reddy (Ashish Vidyarthi)'s power and arrogance, persons who were craving for freedom and survival? Kuruvi is all set to offer fitting answers for all these queries!
Undoubtedly, Kuruvi is an out-and-out Vijay extravaganza. With all the signs of a born entertainer - eyes twinkling, body motion (in dances, fights and casual mockery) the tone changing suitably during punch dialogues - the actor establishes his character firmly and earns claps and whistles in every frame. Vivek is an effective foil and offers his effective best for Vijay's cause; he also sparkles with his own track of humour and practical wisdom.
Trisha is the real heart-throb of Kuruvi. How cute she looks in all those desig