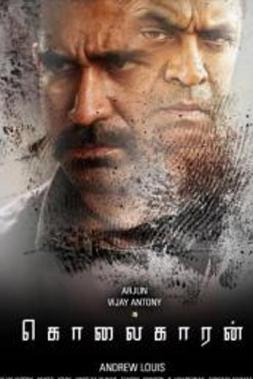 Kolaigaran Movie review
After his debut vehicle Leelai in 2012, director Andrew Louis Vasanth is back with Kolaigaran now. From the promo materials and the title, it is a child's play to realize what we will be getting in for. Therefore, how this story is narrated is what one would like to know when he or she comes into the theatre. In that sense, we can easily say Andrew has done a good job in his second directorial. This whodunit picks up well and travels at a steady pace. Andrew clearly spreads his cards in the initial portions, keeping the important ones close to his chest.
The first half perfectly moves with the director throwing his red herrings at right intervals. He moves the narrative interestingly with a small twist before the interval block making the audience wait for the second half to begin soon. The second half also travels in the path that has been set in the earlier part. The criminal investigation moves on giving the audience the guessing came. To Andrew's credit, there are a few unpredictable twists which make the viewers satisfied at the end of the film.
There are no major loopholes in the story, thanks to the core premise of the film, adapted from the Japanese novel, The Devotion of Suspect X. In such stories, the motives fall only under few categories and in Kolaigaran too, it is not some out of the world objective. Andrew has not attempted to make the narrative very different and in the process lose the attention of his audience.
Despite having a very good premise on hand, the screenplay has been not-so-engaging. It is not completely gripping enough to hold the audience to their seats. The treatment is bland and ineffective. The two romantic songs in the film are wrongly placed and it totally acts as a speed breaker. The dialogues that come towards the end of the film look force fitted and over dramatic. Some viewers might feel the interaction between the hero and heroine, a little weird with flat emotional quotient, but the explanation for it comes at the end.
Vijay Antony with his, 'I don't want anyone to know what I am thinking' expression comes very much handy to his character of Prabhakaran. Perhaps the artist cleverly chooses such roles only! Arjun as the investigative officer brings to the table his rich experience in acting and does complete justice. The intelligence on his look and the 'devil may care' countenance help the film big time. Equal screen space is given to both Vijay Antony and Arjun and they have used it rightly.
Heroine Ashima Narwal and her mother played by Seetha are perfectly cast with constant fear on their face plastered. Nasser does an equally interesting role. Music of Simon King (Bharat's 555 and Sibraj's Sathya fame) aids the transference of the film's mood to the audiences. Mukesh's cinematography is decent with no complaints