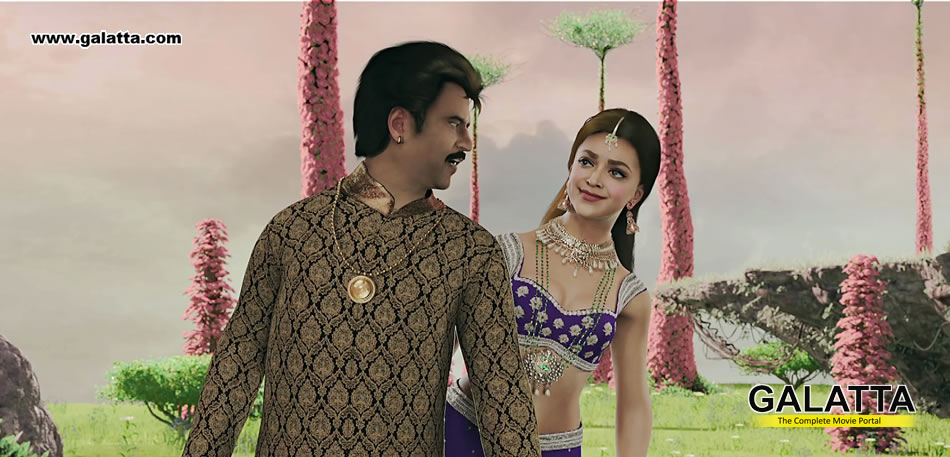 About

Kochadaiiyaan
A saga of revenge undertaken by a son for his father's name and his kingdom.
Kochadaiiyaan Movie review
Kochadaiiyaan is India's first motion capture 3D film directed by Soundarya Rajinikanth Ashwin. Featuring Superstar Rajinikanth, Deepika Padukone, Aadhi, Sarath Kumar, Nasser and Shobana, Kochadaiiyaan is a battle for righting many wrongs. The movie runs for 1 hour and 50 minutes and is jointly produced by Eros International and Media One Global Entertainment. A.R. Rahman has scored the music.
After a sudden, startling incident, young Rana (Rajinikanth) runs away from his kingdom and reaches the distant kingdom of Kalingapuri. Here he grows up to be a fearsome warrior and becomes the supreme commander of the kingdom's army. The king of Kalingapuri (Jackie Shroff) is impressed by him, and his son - the prince Veeramahendra (Aadhi) is happy that his friend Rana has risen to such a position.
There are a lot of slaves in Kalingapuri, most of whom are soldiers captured from enemy kingdoms, the largest numbers being from Kottaipattinam. Rana inducts these soldiers into his army and forms a massive force using which he wages war on the surrounding kingdoms. He is successful in all the wars, thereby making Kalingapuri, a great kingdom. Finally, Rana decides to take on the mighty Kottaipattinam.
Kottaipattinam is ruled by King Rishikodagan (Nasser) and his son is prince Sengodagan (Sarath Kumar). Rana and Sengodan meet on the battlefield and an interesting turn of events happen, and former friend Veeramahendra now turns foe and swears vengeance on Rana. Vadhana (Deepika Padukone), the princess of Kottaipattinam and Rana are childhood sweethearts whose love is rekindled when he comes to wage war on Kottaipattinam.
There is another love story - between Sengodagan and Yamuna (Rukmini), who is Rana's sister. Though Rana supports this alliance, his uncle (Late Nagesh) who is a sculptor, is against it as he is sure that the king would not be in favour of it. Amidst all this, there is a mysterious assassin who is trying to take out king Rishikodagan. Who is this assassin? Who is Kochadaiiyaan and why is Rishikodagan wary of Rana? Who are all the friends who are going to turn against Rana? Why does Sengodagan walk away from the palace? Can Rana succeed in defending himself and his country from all their enemies? Watch Kochadaiiyaan on the big screens to know!
The trials and tribulations and the continuous twists in the story make Kochadaiiyaan an interesting watch. Director Soundarya should be applauded for taking up such a challenge and bringing it to fruition. KS Ravikumar's hand in the movie is visible throughout the movie and the powerful dialogues and outstanding screenplay are major pluses for Kochadaiiyaan. Watching the veteran actor Nagesh on screen, though he is computer generated, brings back memories of his evergreen comedy. The way the director has set the premise for a sequel is exciting. Almost all the characters have been perfectly depicted through their avatars. AR Rahman's music and BGM are outstanding and the melodies linger on the viewers' minds for quite some time. The complete range of visual effects can be seen during the stunt sequences, which have come out very well. All the hard work put in by the actors has paid off and come out well on screen.
For such a budget, Kochadaiiyan is a visual treat for Thalaivar's fans, and definitely worth the wait!