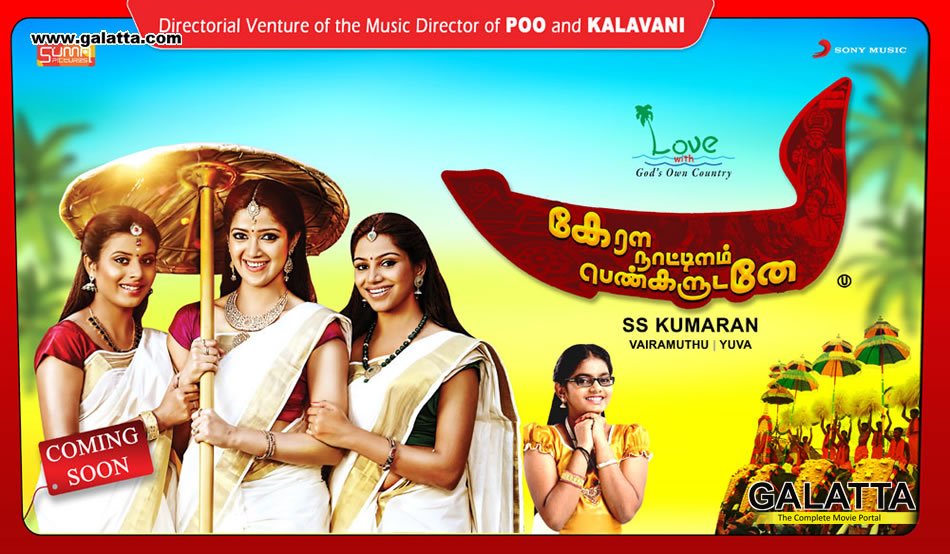 About

Kerala Nattilam Penkaludane
A young man whose dad wants him to marry only a girl from Kerala, as he feels they are most beautiful. The young man goes to Kerala for the purpose and what happens there is told in a humorous way.
Kerala Nattilam Penkaludane Movie review
Kerala Nattilam Pengaludane is a quirky tale on the beautiful ladies from God's Own Country...
Abhi is the son of Tamizh Mani (Professor Gnanasambandham) who has a major affinity for everything from Kerala - the tradition to their lovely ladies. It is well known that the inherent beauty of women from God's Own Country is something that strikes everybody's minds the most when talking about Kerala. Tamizh Mani wanted to get married to a woman from Kerala, but is unable to do so. So, he gradually changes his whole lifestyle to resemble that of a Keralite. He buys only Malayalam newspapers, though he does not know to read them. He tries talking in Malayalam only, and religiously follows Onam festivities. His love for the state is such that he asks his son to promise that he would marry only a girl from Kerala. Abhi's mother Renuka is a Tamil culture lover, and is at her wit's end due to her husband's antics. Abhi, wanting to fulfill his father's wish takes off to Kerala. Here, he comes across 3 beautiful women - Deekshita, Abirami and Gayathri. Will one of these three become his wife? How is this whole trip to Kerala going to change Abhi's life? Watch Kerala Naatilam Pengaludane on the big screens to know.
Director SS Kumaran has come up with a simple yet novel idea. However, one feels that the screenplay could have been tighter, to keep things interesting. It is a good debut for Abhi and Abirami plays her part well. However, SS Kumaran scores in the music department and his tunes are lingering. Kaali, of Thegidi fame, does a good job. Veterans Prof. Gnanasambandham and Renuka breeze through their roles. The cinematography has come out very well and the scenic beauty of Kerala has been wonderfully showcased. The humour clicks in places.
Kerala Naatilam Pengaludane showcases the beauty of Kerala in more ways than one.