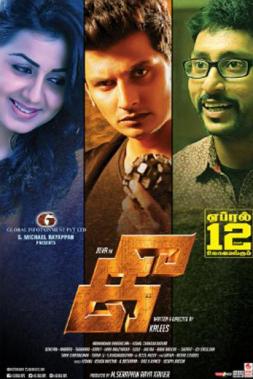 Kee Movie review
Global Infotainment - Michael Rayappan's production venture Kee, directed by Kalees, stars Jiiva, Nikki Galrani, Govind Padmasoorya, Anaika Soti, RJ Balaji, Suhasini Maniratnam and Rajendra Prasad in lead roles. Technology is both a boon and a bane and unsafe use of technology can have dire consequences. That is what Kee is all about. A team of hi-tech hackers use individuals' secrets and details obtained from their smartphones, social media and computers to manipulate them. An ethical hacker (supposedly), unwittingly gets involved with this gang of criminal hackers. And its GAME ON! The cat & mouse game between these two, forms the crux of Kee!
Director Kalees has been waiting for way too long for this movie to release but one feels there wouldn't have been much difference in the viewers' opinions, irrespective of whenever this movie hit the screens. Jiiva looks good and we have known him to be a more than able performer but there is not much even he can do for Kee. Nikki Galrani has a run-of-the-mill modern, bold and chirpy heroine character and she has done what seems to have been asked of her. Anaika Soti has very good screen-space and her role is meaty too. RJ Balaji's comedy falls even lower than flat and fails to evoke any laughs. It is even acceptable if emotional sequences don't evoke any feeling in you but if they make you laugh at their poor handling, nothing can be said of it.
The overall concept of the movie is very good and has ample scope and space for establishing strong characters and extracting impressive performances but the director has failed big time in the execution and that brings down the whole movie. The characters are very poorly written and do not connect with the viewers in any way. The dialogues are outright poor and at times very crass and denigrating. There are oodles of unwanted glamour, literally making major portions of the first half, seem like soft porn. The over-stretched father sentiment is painfully hilarious and veterans like Rajendra Prasad and Suhasini Maniratnam are literally left stranded like clowns. Govind Padmasoorya as the villain, has done a very good job and is commendable. Logic goes for a toss in plenty of places. However, there are a few places where the handling of technology and the explanation behind it are good and interesting.
Vishal Chandrasekhar's music is ok but at times sounds jarring, however the on-screen visuals demand it so we cannot complain. The placement and frequency of the songs are another letdown for Kee. Abinandhan Ramanujam's cinematography is good and his work both indoors and outdoors, is a plus for the movie. The CG work blows hot and cold with some portions being extremely good and some being very patchy.