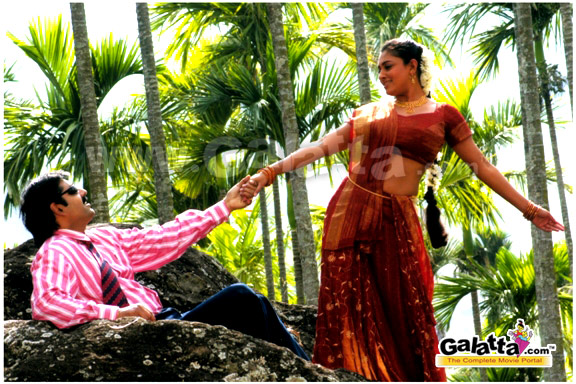 Kattuviriyan Movie review
Kattuviriyan is a suspense thriller. Malavika, one of Kollywood's glamour girls, appears in a dual role (as mother and daughter). The debutant hero is Dr. Ram, an ENT surgeon.
Chief Secretary Ram (Ram) and Deputy Commissioner Malavika meet each other by chance during a lavish dinner party organized for top-level Government officials. After the initial small talk, they enquire about each other's spouses and offspring. Subsequently, a brief flashback unfolds their previous connection.
In the flashback, we see Malavika and Ram getting betrothed. Before the wedding, Malavika casually goes on a bike-ride with Ram's cousin. Ram, who has a suspicious nature, dislikes his fiancée's friendliness with strangers and abuses her. Distressed with his behaviour, Malavika cancels the engagement.
Cut to the present tale. Malavika takes her daughter Priya (Malavika) to meet Ram and his family. They meet Ram's wife, who is physically-challenged, and their daughter, an outwardly calm and docile girl. But soon, they learn that their calm appearances were deceptive, a trick to impress them. Finally, the DC returns with a confirmed negative opinion about Ram.
In the meantime, Malavika goes to a remote village to investigate the truth behind the mysterious murders that occur in a dilapidated cottage. The terrified villagers have dubbed it 'bhooth bungalow' and nobody goes near it, in fear of getting killed. There, she comes across Ram's daughter's forlorn fiancé (newcomer Daya), who requests her to find the truth behind his lover's disappearance. Unfortunately, Malavika is brutally killed before the investigation takes off. Priya takes up her mother's mission and exposes the real facts and villains behind the dastardly plot.
Suspense thrillers are compartively rare in Tamil. But sadly, those are attempted lose their essence and verve by surrendering themselves to commercial features. When the plot is murderous and gruesome, there is little reason to dilute the plot with extra-marital issues. Of the two roles, Malavika excels in the senior role, as the matured DC. But for those who expected her usual glamour show, her portrayal would come as a shocking surprise. Both roles are performance-oriented. Director Kalaipuli G. Sekaran's comedy role is rather flimsy.
Had Kattuviriyan been better focused on the main plot, we would have enjoyed it much more.