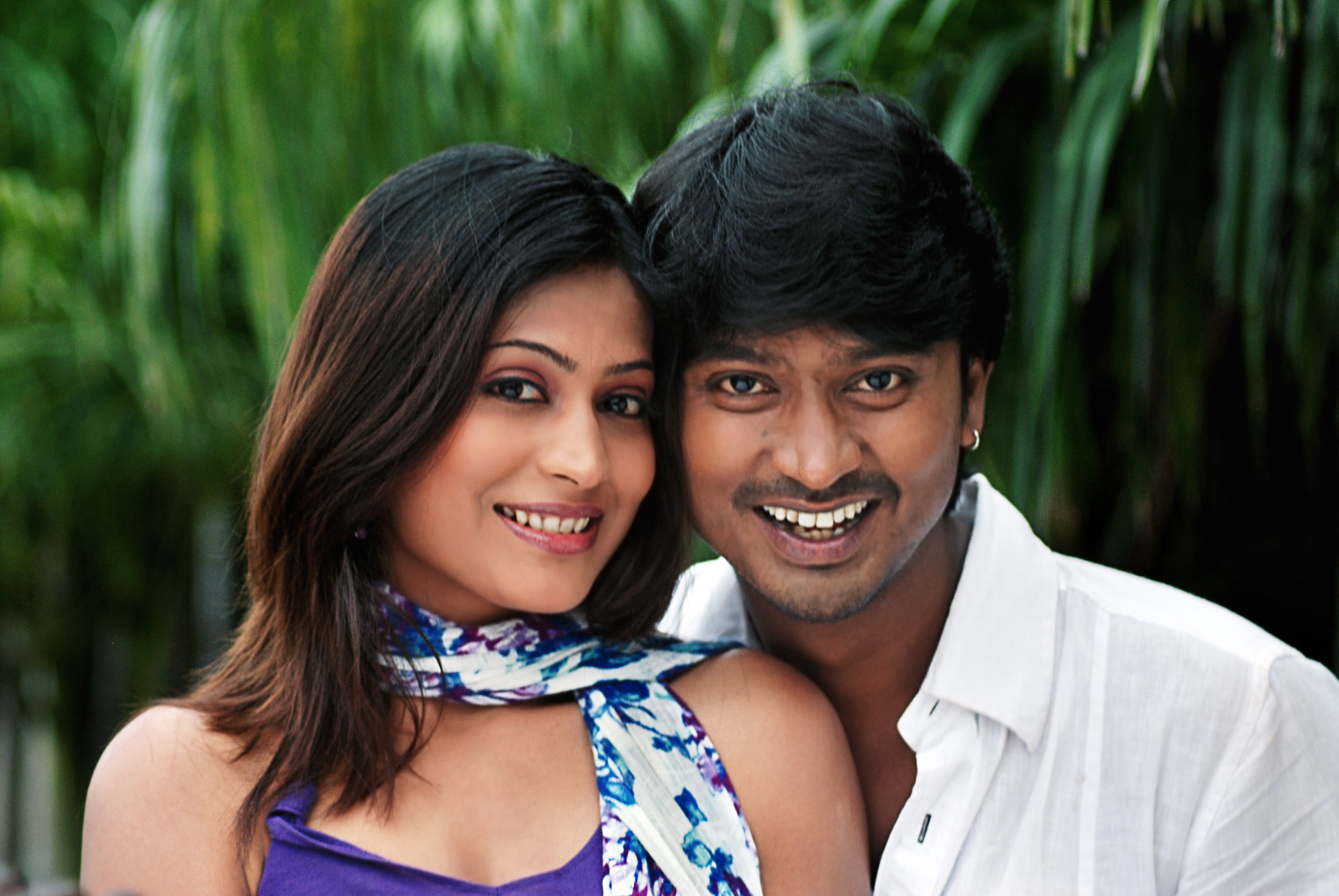 Kattradhu Kalavu Movie review
A good movie can easily be eclipsed by a mass masala movie especially one having a superstar! This is one of the darkest sides of Kollywood. If it happens once again, what would be the commercial kismet of child artist-turned-hero Krishna's second film Kattradhu Kalavu, which is being released simultaneously with superstar Suriya's much-hyped Singam? This was the biggest concern of all who euphorically came out of the preview theatre at Prasad Labs, Chennai after watching Kattradhu Kalavu, directed by Balaji Devi Prasad and produced by hero Krishna's father (Pattiyal Sekhar) with Vijayalakshmi (of Chennai 600028 fame) as heroine! Will it succeed with decent box office returns even alongside Singam? That will be determined by time! Anyway, Kattradhu Kalavu has turned out to be a well-made crime thriller-cum-love story with a racy narration and over-the-top climax, truly worth enjoying.
The film begins with the morning scenes at Rameswaram Ramanatha Swamy Temple, where a young couple Krishna (Krishna) and Krishnaveni (Vijayalakshmi), is present to get married, apparently without parental consent. After bribing the temple officials, the couple manages to complete the marriage ceremony, but to our surprise, we soon come to know that the couple is being chased by a group of policemen, led by Stanley Deva Sahayam (Kalyan) from Delhi, on various criminal charges. The police corner the couple in the temple premises, but at the last moment, a temple driver Ramanathan (Sampath Raj) saves them and brings them to a safe location. Later, it is revealed that Ramanathan himself is a local police inspector who is authorised by the Delhi police team to catch Krishna and Krishnaveni. In the secret place, he interrogates them separately, and thus the core of the story unfolds in flashback mode. Flashback mode begins...
Krishna is a bank employee, who aspires to launch a bank called 'Student's Bank' exclusively for students, a bank which can radically reduce the financial burden on students. He shares his revolutionary ideas with a prominent banker in Bangalore, Ramakrishna (Santhana Bharathi). Ramakrishna (predictably) steals these ideas and presents them at a national conference, fetching him huge fame in the country. Irked by this, Krishna plans to take his revenge from Ramakrishna. In this process, he meets Krishnaveni who left her home to become an air hostess, but in vain. With the help of Krishnaveni, Krishna takes revenge by trapping Ramakrishna in a sex scandal.
With the pleasure of revenge and earning millions from Ramakrishna by blackmailing, the duo decides to choose the criminal way to make money by cheating big guns. Everything goes well, until they blackmail a Union minister Vaikavardhan (Cochin Hanifa) with a video tape proving his involvement in a conspiracy. In the backdrop of upcoming elections, the annoyed minister orders the Delhi police to gun down the couple and seize the video tape.
On the hearing the whole story, Ramanathan feels pity on young culprits and advises them to surrender before the court, so that the police cannot kill them in an 'encounter'. On the way to a district magistrate's court, Krishna and Krishnaveni hatch a new plan to save themselves from these policemen! What's their plan? Will they succeed The answers to these questions form the rest of the thrilling story.
As the basic plot indicates, the film is engaging and racy from beginning to the end. Notably, unlike many of today's post-modern realistic crime thrillers, Kattradhu Kalavu isn't too bloody or violent; however it has all the ingredients of a commercial film like an item number (by Mumaith Khan), romance, stunt and suspense. The major highlight of the movie is of course its climax which is unpredictable and nail-biting in all senses! It ends with an optimistic twist in the story, letting the audience take a deep breath of relief after a series of arresting actions! The only drawback is comedy by Kanja Karuppu who fails to amuse.
Performance-wise, all actors, including Krishna and Vijayalakshmi, have done their roles decently. Krishna deserves special mention; his portrayal is so convincing that one doesn't feel this is his second film! It is good to see late actor Cochin Hanifa onscreen once again; apparently Kattradhu Kalavu is his last film. J. Paul's music and Nirav Shah's cinematography are good and gel with the mood of the film. All in all, Kattradhu Kalavu is a near-perfect movie, made with the right ambiance of a crime thriller.
Congrats to the entire team of Kattradhu Kalavu!