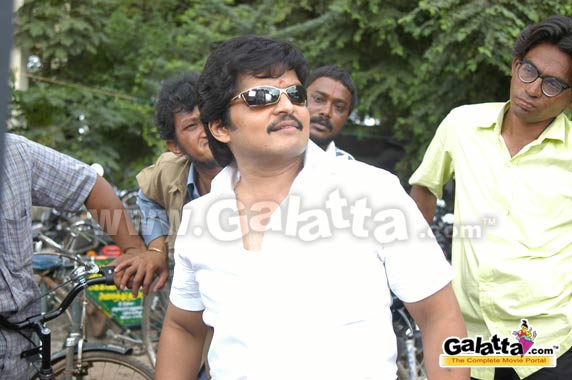 Karuppusamy Kutthagaithaarar Movie review
Quite an interesting and light-hearted story, is that of Karuppusamy who is a kutthagaithaarar, someone who gives and takes property on lease.
Karuppusamy Kutthagaithaarar has Karan and Meenakshi in the lead roles and is set in Madurai.
The huge bicycle stand at Madurai Medical College is leased by Karuppusamy (Karan) and he makes his income from the sale of parking tokens for bicycles. He is a big-hearted and jovial character, usually unruffled, genuine and basically a good guy. He loves to dabble in different things – like playing the roles of yesteryear-Kollywood stars in local drama troupes!
Rasathi (Meenakshi) is a young student whose family moves to Madurai and joins the medical college in the 1st year. Thanks to her parking her bicycle at Karuppusamy's stand every day, they meet often and he treats her in a fond and friendly manner. But Rasathi's emotions are greater than just "friendly". Karuppusamy's mannerisms of caring, like the occasional pat on the head, his constant advice to her to eat properly, his guidance in ensuring that she is happy and interested in her studies at college, remind her of her mother who had unfortunately passed away when she was a little girl.
Finally, Rasathi makes up her mind to tell Karuppusamy of her feelings and asks him to accept and return her love. She tells him that she loves him because of his compassionate and affectionate nature, especially towards her, but she is also determined to complete her medical course well... which she can only do if he recognises and reciprocates her love. Karuppusamy is understanding and they pledge their affection for each other.
Meanwhile, Rasathi's father is not very happy with this – he is against Rasathi spending her life with Karuppusamy. Karuppusamy does speak to him and explain to him that he has nothing but honourable feelings toward Rasathi; plus that he respects her intentions to study and is supportive of that. Rasathi's father remains noncommittal and silent. Unfortunately, not so their relatives.
Somehow, Rasathi's relatives hear of her romance with Karuppusamy and enraged, storm into the city in hordes to put a stop to it. Rasathi's father sees this show of force and joins them. The unfortunate part is that they're not just an angry set of relatives, but as close to rowdies and murderers as possible and Karuppusamy is in true danger.
Initially they try to threaten and intimidate him – file a police complaint of harassment against him, beat up his friends, etc. – but Karuppusamy remains silent and unresponsive, keeping Rasathi's welfare in mind.
The twist comes in when Rasathi is locked up in her house and prevented from writing an important exam. Karuppusamy steals her out of there, takes her to the exam and brings her back home. Unfortunately, the furious relatives assume that he may taken her away to secretly marry her and hunt him down. When Karuppusamy brings Rasathi home, they beat him up. Seeing this, Rasathi take a decision and threatens suicide if anyone prevents them from being together!
To appease her, everyone promises to get her married to Karuppusamy once her studies are over.
And here comes the crescendo to the film, where Karuppusamy, on his way to Sabarimala for his yearly pilgrimage, hears from his friends that Rasathi's family is hurriedly trying to get her married off to someone else while he's away!
Will he cut his pilgrimage short to find Rasathi? Will he fight for her or will he give in to his non-confrontational nature and move away? Watch the movie to find out.
All in all, Karuppusamy Kutthagaithaarar is pleasant, watchable film. Good "timepass", great comedy, some nice dialogues...
Karan seems to be on his 2nd innings as the main hero after Kokki and has done a good job. Noteworthy here is his timing in comedy – the film has a