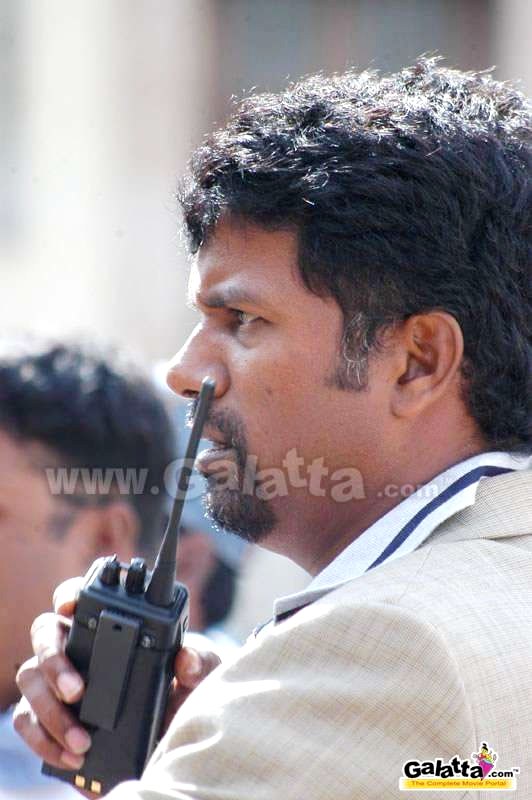 Kanthaswamy Movie review
Movies are made to entertain. In addition to providing entertainment, only a few make us ponder about different issues in society, issues that need to be addressed. Kanthaswamy is one such movie. Produced by Kalaipuli S. Dhanu, the man who left movie fans awestruck with the grandeur shown on the silver screen in Aalavandhan and various other films, Kanthaswamy goes a step further by raising Tamil cinema to international standards, be it in production values or marketing.
Who's In It?
One of the most-anticipated movies of the year, directed by Susi Ganesan (Virumbugiren, Five Star and Thiruttu Payale), V Creations' Kanthaswamy has 'Chiyaan' Vikram, Shriya Saran, Krishna, Prabhu, Vadivelu, Mukesh Tiwari and Ashish Vidhyarthy in the main roles. Mumaith Khan does an item number. Devi Sri Prasad takes cares of the music while Viveka has penned the lyrics. Cinematography is by Ekambaram.
After his last few releases, Vikram really needed a movie like Kanthaswamy to lift him again to the numero uno place in Tamil cinema. Chiyaan, who delivered blockbuster hits consecutively with Dhool, Saamy and Pithamagan, was touted to be next 'Super Star' by Rajinikanth himself. Does Kanthaswamy prove to be yet another blockbuster for him? Keep reading.
What's It About?
DIG of police (Prabhu) is given the task to solve the mystery of an unknown source providing the poor and needy with money and solving their financial problems. The prevailing myth among them is that when they write their financial needs on a paper and tie it to a tree in a Murugan temple, Lord Muruga himself appears before them in an avatar and blesses them with the money.
Prabhu suspects this belief is not based on facts. From the statements of a few witnesses, he concludes that a man dressed as a rooster answers the prayers of the needy and gives them the money. He tries to track down the whereabouts of the masked crusader 'Kanthaswamy' who leaves a message behind after each incident. The investigation leads him to CBI officer Kanthaswamy (Vikram). The rest of the story is all about Prabhu proving Vikram as the avatar and also revealing a lot of twists in the tale.
The Performances
Kanthaswamy is purely 'Chiyaan' material! Vikram entertains the audiences with his mind-blowing performance as the Good Samaritan. The entire movie rests on his shoulders and he proves that he is worthy of another National Award. Audiences are sure to go ga-ga over his Aishwarya Rai and old saint avataars. His style and physique perfectly blend with the 'rooster' super hero characterization! It remains a doubt if any actor other than Vikram could have done justice to this role.
Shriya Saran as Subbulakshmi, daughter of PPP (Ashish Vidhyarthy) is at her best as far as looks are concerned. She enacts her part well in the song sequences, providing adequate glamour and sizzling with her dance moves, especially in 'Allegra' and 'Mambo Mamiya'. It's a delight to watch her romance Vikram in 'Excuse Me Mr. Kanthaswamy' and 'Meow Meow Poonai!' Tollywood veteran actor Krishna (father of Mahesh Babu) after appearing in more than 300 movies, makes a memorable screen presence in Tamil cinema with Kanthaswamy. As the CBI Joint Director, Krishna impresses.
Ashish Vidhyarthy, as usual, enacts another stereotyped character. Mukesh Tiwari (Pokkiri) as the antagonist does not provide enough competition to Vikram. His villainous schemes to outsmart Vikram could have been etched out much better. Mumaith Khan does heat up the screen with her cameo act in 'En Paeru Meenakumari'. Y.G. Mahendran is at ease. Alex as Pitchumani is good. Charlie and Mayilsamy's cameos are OK.
Special applause is due to Prabhu and Vadivelu for having formed a successful comedy combo! The theatre is sure to roar with laughter during their interrogation session. The Megam Karukkuthu and rooster sequence by Vadivelu will make audiences of all ages laugh until their stomachs hurt!! The scene where Vadivelu gets caught by Mansoor Ali Khan wearing the funny rooster attire is thoroughly enjoyable. Overall, Kanthaswamy has above average performances from all the cast.
For Techie Lovers
In excellence in technical matters, this mega budget production from Dhanu's V Creations is at par with Hollywood films. Susi Ganesan and his team have taken care to thrill audiences in each frame. Ekambaram's cinematography showcases Mexico, Italy and Muscat like never before. The colour tone settings, art direction and costumes in the sequences abroad match Hollywood's Syriana and Babel.
For a movie that revolves around a superhero storyline, choreography of death-defying stunt sequences is vital. Kanal Kannan and 'Chatrapathi' Shakthi have put in their best efforts with all the action grabbing our total attention. It's a known fact that Shriya is a professional dancer. In Kanthaswamy, the dance choreographers (Shanthi, Shobhi, Gayathri Raghuram and Saravana Rajan) have done an excellent task of making Vikram, Shriya and the group dancers rock in every song! Shriya's hip moves can be favorably compared to those of JLo and Shakira. Padmashri Thotta Tharani's art direction, along with the cinematography, gives an international look and feel to the movie.
Devi Sri Prasad's music for Kanthaswamy will serve as a major crowd puller. All his songs are already chartbusters and with his mesmerizing and haunting re-recording, he musically owns the movie! His BGM makes the screenplay move faster.
Final Verdict
Having mentioned the strengths, Kanthaswamy does have its weaknesses, especially in the screenplay and length. The screenplay by Susi Ganesan could have been crisper and a few sequences that appear dragging need trimming. The story also reminds us of movies like Gentleman, Indian, Anniyan and Sivaji. People who come to theatres expecting the hero to possess super powers like Superman or Spiderman might be disappointed since Kanthaswamy resembles the profile of Batman who uses technology and grey cells to fight baddies! Signing off with this spoiler, watch Kanthaswamy for the commendable efforts by Dhanu and his team. Kanthaswamy is definitely another feather in the cap for Vikram!
Cheers!: Kudos to the entire cast and crew of Kanthaswamy, especially Kalaipuli S. Dhanu, for the entertaining movie experience!
Review by Shailesh (shailesh@galatta.com)
Please note: Every review on Galatta.com is written by the person who has watched the movie. Therefore, while conscious effort is made to give a fair, unbiased and ethical opinion, every review will have a personal element and opinion to it. Ultimately, every movie experience is a personal one and readers should watch each movie on their own terms.