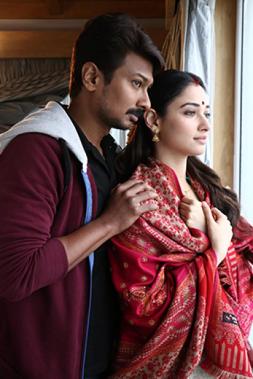 Kanne Kalaimaane Movie review
The title being inspired from the first 2 words penned by Kannadasan for a song in Moondram Pirai, Kanne Kalaimaane begins with a thanks note for the veteran lyricist. Kanne Kalaimaane in its focus has a dynamic young farmer (played to perfection by Udhayanidhi Stalin), who falls in love with a hard-working banker (Tamannaah). How two people coming from different backgrounds get hitched and what happens next forms the plot.
The first thirty minutes doesn't prepare you for what is to come – it is more like a PSA (Public Service Announcement). Though we wish to appreciate director Seenu Ramasamy for trying to talk about farmers issue in a family love story, his screenplay in the first half is strewn like bread crumbs. The film does not have a proper three-act structure – you hardly have an idea where the conflict begins and where it ends. Seenu must have had some conflict thrown into the screenplay and the absence of it renders a flat feel to the film.
Seenu Ramasamy generally has an eye to capture emotions at their purest form. However, in this film, the love track doesn't connect with you instantly, majorly because it was mixed up with a social angle. Having said that, few scenes in the second half, especially towards the end were so heartwarming and they were well-etched out in typical Seenu Ramasamy style. The climatic sequence is filled with plenty of drama and when the crisis is resolved, as it should, the questions raised still seem to have an air of ambiguity.
Udhayanidhi Stalin, as the goodhearted young farmer, is instantly likeable. The director makes sure that the script is packed with scenes that will make the audience root for him in the first half, and he executes them to perfection. Overall, the acting throughout the movie is good and dialogue delivery is as good as it gets.
Vadivukkarasi delivers a smoldering hot performance – she is in fact, the USP of the film. Her character is crafted so well and Seenu has let Vadivukkarasi play to her strengths. Tamannaah, though looks very pretty with hardly any make-up, she looks a bit alien to the rural milieu. On top of it, there were issues with lip-sync. Tamannaah's character, on the whole, lacks clarity and isn't so painstakingly crafted. The actor who plays Udhay's father does his role with absolute finesse and it looks so natural to see him perform.
Even technically, the film could have been better. Coming after a classic album like Peranbu, you expect Yuvan to deliver something magical, but this is nothing close to his best; some background scores sound like it was composed for a TV soap. Jalandhar Vasan's cinematography has a lot of top angle shots, while some befit the script, some don't.
The main problem with Kanne Kalaimaane is that it starts off as a PSA - film that talks about the sad state of farmers, slowly tilts into a love story and ends up a family drama. This awkward genre shift doesn't let you sync in with the film.