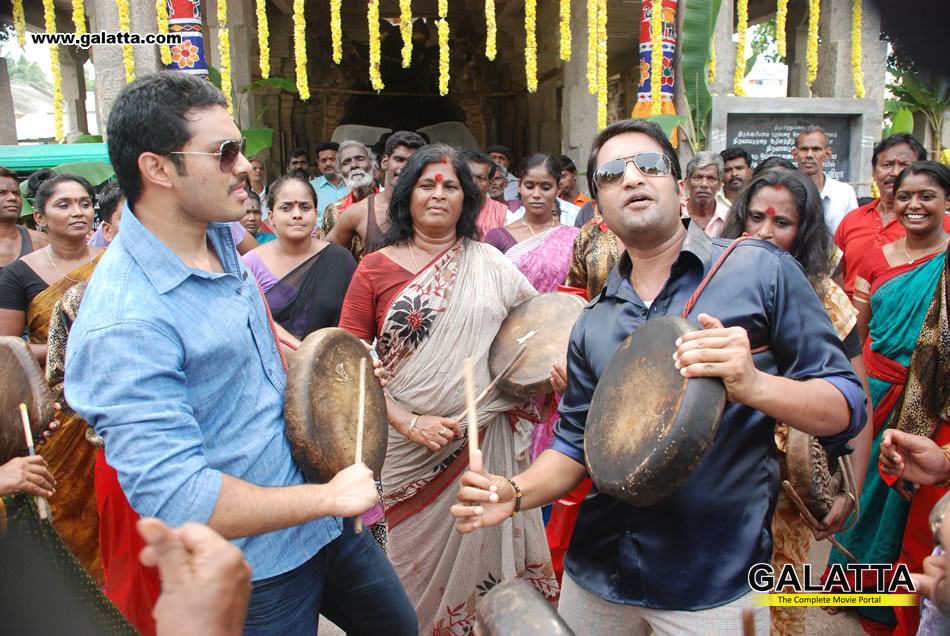 About

Kanna Laddu Thinna Aasaiya
Three funny men uses different tactics to impress a next-door girl.
Kanna Laddu Thinna Aasaiya Movie review
Santhanam's maiden production venture Kanna Laddu Thinna Aasaiya (KLTA) has been creating headlines ever since its launch. The film also stars Power Star Srinivasan, a doctor-turned-actor who has created a wave on internet, in an important role. Even though Santhanam had clarified that the film is not a remake of Indru Poi Naalai Va, the end product looks more like a modern version of Bhagyaraj's cult hit. Let's take a look at the plot...

K.K (Santhanam), Power (Srinivasan) and Shiva (Sethu) are childhood friends; they are carefree, senseless and have no other job other than troubling pretty girls. At this point Sowmya (Vishaka) gets relocated to the opposite house of Shiva. The three men falls in love with a girl and tries to woo her. To impress Sowmya, Shiva does all the household work for her. Power decides to learn bharathanatyam from her father and KK joins her uncle (VTV Ganesh) as his music student. And the comedy of errors begins...

Santhanam is the star of attraction in Kanna Laddu Thinna Aasaiya, he has co-produced and written this flick along with Manikandan. Power Star Srinivasan is the surprise element, he does comedy, action and even sentiment. Kudos to director Manikandan and Santhanam for bringing out the best in Power Star. We are sure that audience cannot stop laughing at Power Star, no matter what he does. Sethu and Vishaka are good while Kovai Sarala and VTV Ganesh are extra ordinary. Thaman music is appropiate to the script.

Overall, Kanna Laddu Thinna Aasaiya is a perfect joy ride for this Pongal.