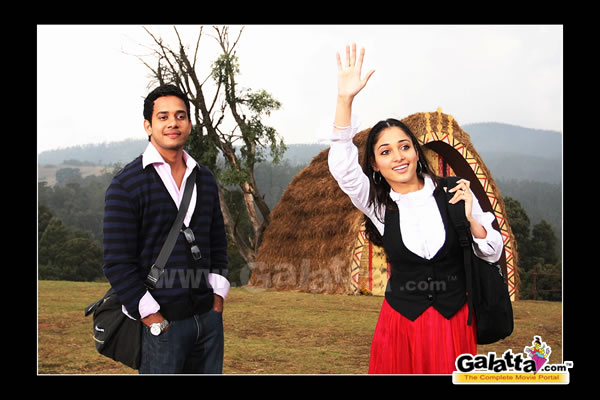 About

Kanden Kadhalai
A chance encounter between two polar-opposite strangers on a train journey ends up changing their lives.
Kanden Kadhalai Movie review
Remaking a film is not an easy task. Maintaining the heart and soul of the original and at the same time giving the viewers a fresh experience is by a challenge. So does Kanden Kadhalai, remake of the hugely successful Jab We Met manage to match up to the original? Let us take a look.
THE CHARACTERS
The story revolves around two complete opposites, Shaktivel (Bharath) and Anjali (Tamannaah).Of course there are other characters in the story, just like in the original. But the character of Mokkarasu (Santhanam) adds an interesting dimension to the story.
THE PLOT
Anjali is a young carefree girl who is in love with the idea of being in love. She is on her way to her hometown Theni and on the train she meets Shaktivel. Shaktivel is a businessman who is depressed with his life as his lover is getting married to someone else. He sees no purpose to his exsitence, He is quiet and keeps a low profile. Anjali is this talkative girl who has an opinion about everything. By a freak accident Anjali misses her train and forces Shaktivel to come with her to her hometown as she has missed the train because of him. Thus begins the journey of friendship. Once they reach their hometown, everyone in Anjali's family is happy with Shaktivel. Circumstances make these two diverse individuals good friends. Shaktivel decides to travel with Anjali to her hometown. This is where the movie takes a turn from the original with the character of Mokkarasu, Anjali's mother's brother and first in line to be her groom. Anjali has no intentions of marrying him and one night she decides to runaway from home to Ooty to be with her lover Gautham (Munna). She tells her idea to Shaktivel and he too leaves with her. This leads to Anjali's folks to believe that she has eloped with Shaktivel. Influenced by Anjali's love for life, Shaktivel is now prepared to face all his problems. He leaves Anjali in Ooty and decides to return home. But when after a few months Anjali's family tracks him down and ask about her, Shakthi realises that something has gone wrong and he decided to go to look for her. What happens next? Does he find her? What happened to Anjali? All that forms the rest of the story.
THE TECHNIQUE
Performances
Just like Kareena, Tamannaah manages to steal the limelight in this film. She brings Anjali to life. Her mannerisms, her effortlessness in performing, her bubbly character and the transformation in the second half, all make it one of her finest performances. Bharath looks suave and stylish as Shaktivel. Moving away from his rural image, he impresses as the sophisticated businessman. Santhanam is a laugh riot. Though a new track, at no point does the comedy hinder the narration. Santhanam excels in his comedy with able support from rest of the cast.
Camera: P.G. Muthiah
Every frame of Kanden Kadhalai is beautiful, a painting on celluloid. He has captured the countryside of South India so beautifully. For those who have seen the original, the cinematography is reason enough to watch the film again.
Music: Vidyasagar
Known for his melodious tunes, Vidyasagar has once again given music that matches with the mood of the movie. Every emotion of the lead actors is well depicted in them music.
Direction: Kannan has done a wonderful job with Imtiaz Ali's story.He has adapted the plot to suit the tastes of Tamil audiences without compromising on the feel or essence of the original. A job well done.
VERDICT: If you haven't yet seen the Hindi version, then go and catch Kanden Kadhalai. It is a feel good romantic movie with the heart at its right place. And if you have seen the movie, you can still go at see it; it is worth a watch!