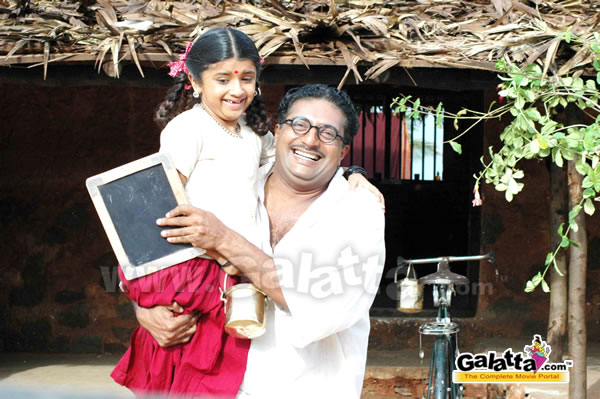 Kanchivaram Movie review
After making hard-hitting realistic Malayalam/ multilingual movies like Kaala Pani, Priyadarshan jumped on the hilarious remake bandwagon, making a number of popular commercial masala comedies. Now the same Priyadarshan has made a film straight from his heart - Kanchivaram, the story of a poor weaver who strives to fulfil a promise made to his daughter. The age-old saying that one who weaves a piece of cloth never enjoys ownership and authority over the same is demonstrated by the plight of Vengadam the protagonist in the film. The film is also set in the British era of the 1940s in the famous silk-weaving village of Kanchipuram in Madras Province.
In Hindu rituals, silk is surprisingly a symbol of sanctity and must be used during marriage and death ceremonies. (Surprisingly, because silk is made be boiling live silk pupae to extract the silk yarn.) Priyadarshan has spun a gripping human story with utmost perfection, precision and poignancy - using the lives of the silk-weavers as his weft and warp.
Vengadam (Prakashraj) is a traditional master weaver, who, for a pittance, weaves the most intricate and delicate silk saris for the merchants who hire him. Ever as a child, he dreamt of draping his bride in silk sari but could not make his dream come true. When Vengadam's wife Annam (Shreya Reddy) gives birth to a daughter, he pledges before the village that his daughter will wear a silk sari on her wedding day. But how will the poor weaver, mired in poverty and near-starvation, fulfill this pledge? He starts stealing single strands of silk yarn every day from his workplace, brings them home and starts weaving his dream sari in his own backyard. His wife dies, his daughter Thamarai (Shammu) grows up into a beautiful girl, and the sari becomes longer and longer. Vengadam also takes part in hunger strikes, makes friends with a communist writer, gets influenced by his talks, and participates in demonstrations against the merchants who hold the weavers in thrall.
An emotional story is told with the historical and political changes as its backdrop and its authentic mood is maintained throughout the film. It is indeed a proud badge of distinction and honour for director Priyadarshan. With Akashvani's mourning for Gandhiji's death broadcast in the background, the film begins as a flashback. The whole village surrounds and looks in awe at the first motor car that enters the destination. From there begins Vengadam's story. Then the film shuttles back and forth in time, much like the shuttle in a hand loom.
Prakashraj is the soul of the entire film. He breathes life and emotion into each and every frame. As a loving husband and father, as a weaver with a great craving to achieve, and as a rebellious union leader, we see different yet genuine facets in Prakashraj's character and performance. Shreya Reddy has aptly portrayed the plight of a poor weaver's wife, a total contrast to her shrewish role in Thimuru; don't be surprised if she walks away with a National Award for this natural performance. Shammu as Thamarai, Jayakumar as Prakashraj's friend, Police constable George and the weavers' community leader, all the characters have ample prominence in the story.
'Ponnoonjal Kattilile' in M.G. Sreekumar's music and his excellent re-recording is a big plus for the film. The first version is a lullaby; the second time it is a dirge during the tragic finale. The minimal background score is most effective. Thiru's camerawork, use of shade and light, different tones of colour, all establish the mood of a period film. The weaver's village, the shops and establishments clearly speak about art director Sabu Syril's work for Kanchivaram. The same technique used in Hey Raam is used better and more effectively here.
The climax when Prakashraj struggles to leave the hand-woven silk sari on his wife's corpse is a sterling example for the depth and impression Kanchivaram makes in audiences' minds. Though well-established in the commercial movie circuit, Priyadarshan has made the movie with a realistic script and screenplay without compromising on the commercial ingredients. The director uses the film as a canvas to show why failed all over the world; those who preach it, never practice it. Man is naturally ambitious and self-centred, which goes against the principles of collectivism. Possibly a film to be counted among classics like Mother India, Do Bigha Zameen. Hats off to director Priyadarshan!