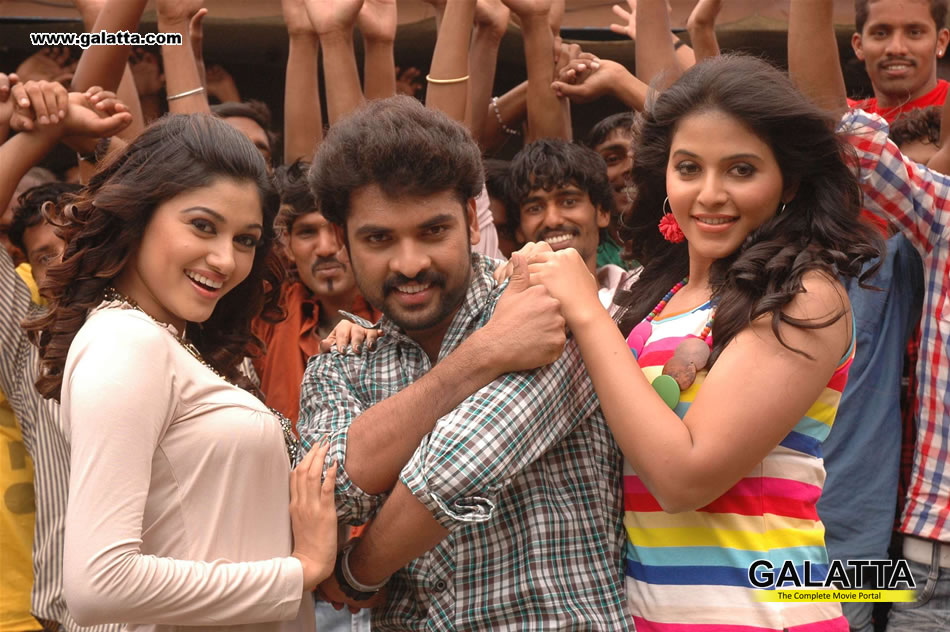 About

Kalakalappu
Kalakalappu @ Masala Cafe is a story of two brothers and their quest to save their cafe.
Kalakalappu Movie review
With Kalakalappu @ Masala Café, director Sundar C., is back at doing what he is best at; Direction. Interestingly this is his landmark 25th film. The film is produced by UTV Motion Pictures and Avni Cinemax, which was earlier titled Masala Cafe, has now been titled as Kalakalappu.

The film, starring Vimal, Shiva, Santhanam, Oviya, Anjali, Ilavarasu, Panju Subbu, John Vijay, George, Balaji Mohan, and Thalapathi Dinesh, also has a special appearance by veteran VS Raghavan. With music by Vijay Ebenezer, lyrics by Pa. Vijay and cinematography by UK Senthilkumar, Kalakalappu is expected to be an out and out entertainer, as the title suggests. With some leading comedians like Santhanam, Ilavarasu, John Vijay, Balaji Mohan and George, we can rest assured that Kalakalappu will bring us some much needed comic relief from the scorching heat of this summer.

What is it about?

The film narrates the story of two brothers and their quest to save their ancestral café in Kumbakonam. Cheenu (Vimal) manages the cafe single-handedly despite the heavy debts. Fate throws more bad luck at him in the form of Madhavi (Anjali), health inspector who gives him two month notice time to improve the quality of the café. And obviously Cheenu falls in love with Madhavi. Enter Raghu (Shiva), a small time thief, Cheenu's younger brother, who arrives after a short stint in jail. Raghu joins his brother to manage the cafe and conceptualizes innovative ways to make the cafe profitable. Raghu falls in love with the chef's daughter Shalini (Oyiya). Then we have Vettupuli (Santhanam), local dhadha and Madhavi's fiancée. Meanwhile a rogue police inspector cheats Raghu and takes over the cafe while Cheenu is away to Madhavi's village. So what will the brothers do to get back their café? Watch out in Kalakalappu, only on screens!

Perfomance & Techniques

Kalakalappu @ Masala Café is a typical Sundar C. entertainer with all the elements required in a commercial flick. But at many point it looks like the director has wrote the script just for the sake of making a film. At many point the direction in which the story travels is very unclear and confusing while the comedy one-liners mostly ends up as flaws. Coming back to the star cast Shiva excels with his witty one-liners and is a big relief factor in the film. Vimal has done his part well but at times he appears very vague. Oviya overacts while Anjali is perfect for the role. However it looks like glamour is not the cup of tea for the Angadi Theru actress. Santhaanam is as usual impressive while Ilavarasu and Subbu has also done a decent job. Vijay Ebenezer's music is apt for the film however a couple of songs could have been trimmed to increase the pace of the film. U.K Senthil's camera work is good.

On the whole Kalakalappu @ Masala Café is a wholse some entertainer with its own ups and down.