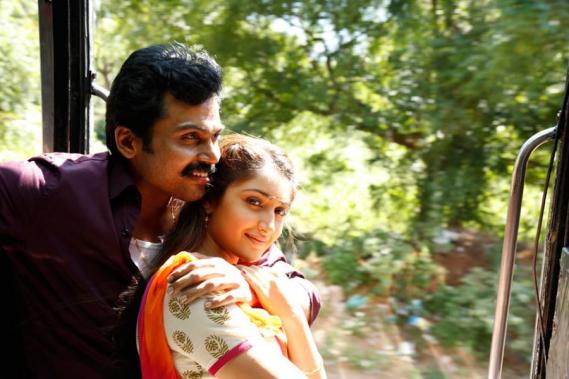 Kadaikutty Singam Movie review
KadaiKutty Singam is a Tamil comedy film written and directed by Pandiraj and produced by Suriya for his studio 2D Entertainment. Kadai Kutty Singam film stars Karthi and Sayyeshaa in the lead roles along with Priya Bhavani Shankar, Arthana, Sathyaraj and Soori in supporting roles.
Karthi is a passionate farmer whose goal is to bring in educated youngsters to his field. His family is big and the drama between them forms the crux of the story.
Director Pandiraj's intention to show us a rural drama full of family emotions is highly appreciable. His dialogues are sensible, especially the ones which convey us the importance of farmers are strong.
Karthi fits in perfectly as a farmer. He underplays at most sequences, which actually works at the later stage of the movie. He has scored well in the action scenes and with his natural dialogue delivery in the sentiment portions.
Soori has supported him nicely with some humorous counters that works here and there. Roles of Priya Bhavani Shankar and Arthana Binu takes the centre stage in the storyline and they both have played their roles decently. Sathyaraj, Viji Chandrasekhar and the grandmother characters are powerfully constructed. They also have good scope for performing in certain heart-warming places.
There are countless number of side artists who have tiny roles to play and hence the impact doesn't really hit. Nowhere the connect exists as the overflow of characters provide a tough fight for us to keep a track. After a point, the emotions exceeds the dramatic limit.
Pandiraj has packed a very thin script which has been witnessed by Tamil cinema audience for decades. The screenplay misses out to engage or entertain and rather it goes on to test our patience at times. Direction is convincing, but the preachy treatment and melodrama present in the flow bores out the viewing experience.
Sayyeshaa has done her job neatly. Although her role is a key factor to move forward the story, her portions tend to lead to big dips in the progression. Villain's role backfires heavily as his scenes are a big joke due to artificial acting and poor characterization.
There are many characters who appear without any motive. In fact, it takes a while for the confusion behind Karthi's family background to resolve as the title card narration was weird. The movie pattern follows director Vikraman's style. But, for the present day, it is way too old and becomes a tiring experience.
Second half loses the momentum completely with unwanted drags. But,the two major impactful sentiment scenes towards the end act as a saving grace. In addition, the performances on the whole are commendable. Film carries a rare phenomena of a feel-good finish.
D.Imman's songs are average, 'Sandakaari' is the only pleasant track of the lot. Background score uplifts the situations. Dolby Atmos mixing gave an authentic feel. Song placements are unsuitable for the flow.
Velraj's camera work is super as for a normal rural subject, his efforts are clap worthy. Dhilip Subbarayan's stunt choreography is satisfactory and the fight sequences seem to be a mix of reality and heroism.
Ruben's editing is okay, but he cannot be responsible for the movie's disengaging flow that runs for a very long time. Opening was good and the refreshing Rekla race scene sets the mood.
Thumbs Up
Karthi's role and performance
Couple of touching emotional scenes
Strong technical aspects
Thumbs Down
Familiar rural family script
Uninteresting screenplay
Preachy treatment and melodrama
Too many unwanted characters