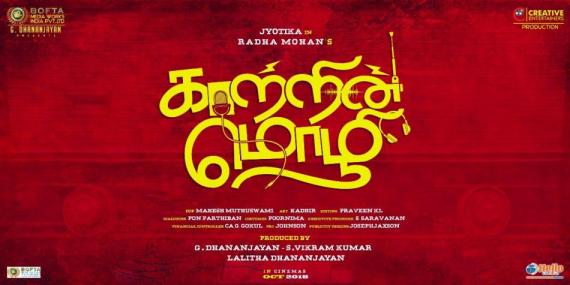 Kaatrin Mozhi Movie review
Jyothika as Vijayalakshmi is a responsible housewife but she wants to go for a work for self-satisfaction. She gets selected as a Radio Jockey to do a late night show at Hello FM. What happens in her life after that forms the remaining story of the movie.
Director Radha Mohan has almost succeeded in the process of neatly remaking Vidya Balan's Hindi movie Tumhari Sulu. Other than the few amateurish comedies, the flow is tidy. The script is tailor-made for the family audience, both men and women could easily relate to the situations as they are practical and realistic. The screenplay is slow with some commercial compromises in the first half, but the latter is stuffed with a truckload of feel-good and emotional moments. The dialogues are average, the writing is partially good for the humor portions.
Expectations to get entertained becomes high when specialists like Mano Bala and Mayilsamy appear on screen, but their comedies are mostly flat and in fact silly at certain spots. There are a few forced double meaning dialogues in the name of offering fun. Before the interval, almost every scene travel with the same issue, a good-going scene is let down big time with a sudden irrelevant intent. The break-point scene is nicely executed and whistles worthy too. The Appalam-advertisement sequence was a speed-breaker, like this, there are a few unwanted scenes that put a pause to the progression.
A few scenes are sensible by its nature, as they are remade without any changes. The staging did not work for Vidharth's office tension and the mischief of the lead pair's son portions. Jyothika's first on-air sequence was superb and it was also handled in a matured manner. The ladies freedom topic and generation-gap issues were presented well. Vidharth's call to the late night show is another note-worthy episode in the film. The sentiments click and the emotional scenes are sure to connect with the families.
Jyothika's performance is solid with perfectly conveyed expressions and her characterization is very good. Vidharth who usually performs naturally has missed it this time, his acting is a little fake and somewhere he did not suit well for his character. Yogi Babu's extended cameo is a disappointment as a couple of scenes he appeared had no entertainment value. STR's special appearance is impressive and could relate to his real-life nature as well. M.S.Baaskar scores a sixer in a well-written heartwarming scene in the second half.
A.H.Kaashif's songs are not so catchy as the tunes are very normal. The background music also missed out to elevate the situations, especially the score for the schoolboys PlayStation masterplan was awkward. Camera work is decent and cinematographer Mahesh Muthuswami has delivered the exact requirements. Praveen.K.L's editing could have been crisper, few unnecessary scenes and some long scenes could have been shortened. The cross-cuts work during the on-air segments but falls flat on other areas. The song placements are random, mainly, Dirty Pondatti and Jimikki Kammal act as huge hurdles.
Watch Kaatrin Mozhi video review on 'Galatta Tamil' YouTube channel here.