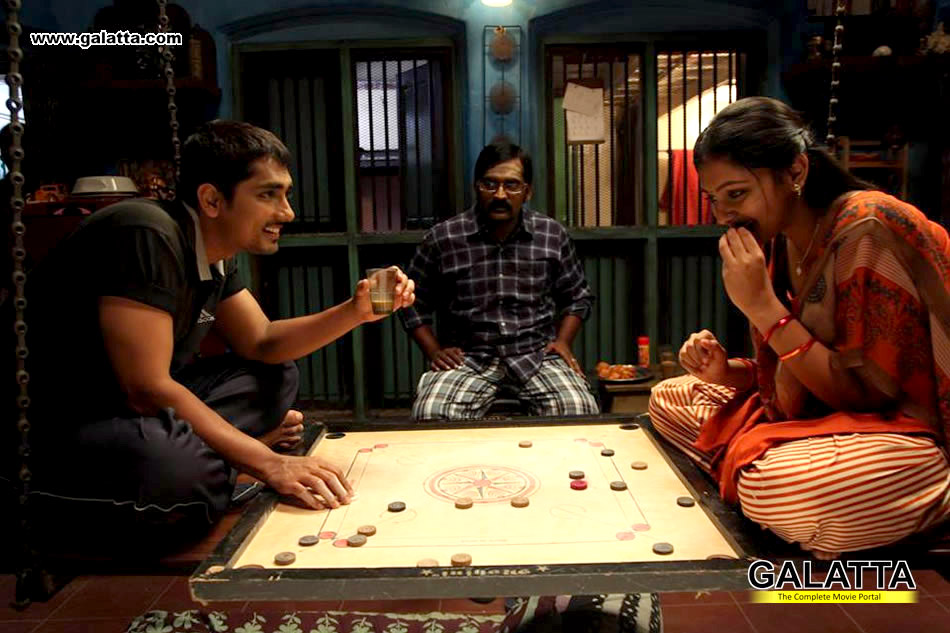 Jigarthanda Movie review
Coming from Kathiresan's Five Star Films banner, Jigarthanda is Pizza fame Karthik Subbaraj's second directorial venture. This musical gangster movie stars Siddharth and Lakshmi Menon in the lead and Bobby Simha playing the antagonist. The support cast includes Karunakaran, Soundara Raja and Vinodhini. Music is by Santhosh Narayanan and cinematography is by Gavemic Ary.
Jigarthanda opens to an encounter scene, and immediately goes into flashback mode. Karthik (Siddharth) is an aspiring director, who by chance lands his first project with a producer (Aadukalam Naren). The producer wants Karthik to give a gangster script with a lot of action and gore. Wanting to find a unique script, Karthik starts doing research on contemporary rowdies and zeroes in on Sethu (Simha), a dreaded and ruthless don from Madurai. Karthik goes to Madurai and along with his friend Oorni (Karunakaran) decides to shadow Sethu and do proper research to get to know him completely. Here, he slowly begins getting to know all the intricate details of Sethu's life and how mean and ruthless he is. Karthik comes across Kayal (Lakshmi Menon), whose mother (Ambika) cooks for Sethu and his men. Using love as a ruse, Karthik gets to know Sethu's story through Kayal, but he also gets in touch with one of Sethu's men and is getting all the information he needs through this guy. After a few double crosses, Sethu comes to know that Karthik and Oorni are gathering information on him and round him up. This happens in a brilliant and explosive interval block. What happens next, forms the whole of Jigarthanda.
Karthik Subbaraj made a mark for himself with his very first movie Pizza itself. Thus, he had to put in a lot of effort to prove his talent with his second and he has done just that. Right from the title to the tagline - "A Cold Heart", Karthik has put in a lot of effort to make sure that it stands out. The storyline and screenplay are very good, though one feels that the movie could have been a bit faster and a little shorter in length. The emotional bonds that develop between people and the subtle, dark humour in the dialogues need a special mention. Siddharth has returned to Tamil cinema with a bang. Lakshmi Menon is impressive with her emotions. Karunakaran has gotten a very meaty role and he has pulled it off exceedingly well. However, the star of the show is Simha. He is an absolute treat to watch. His acting is fabulous and the way he has transformed into Sethu is just astounding. Ramachandran and Soundara Raja have played their parts well. A lot of stars have been given breezy roles - Vijay Sethupathi, Nasser, Bhagavathy Perumal, Vigneshwaran, Ambika amongst others and they excel in it. Santhosh Narayanan's songs have already become hits and his BGM is classy, setting the tone for the visuals. Gavemic U Ary's cinematography is another plus for the movie.
This Jigarthanda is sure to quench your thirst for a gripping movie.