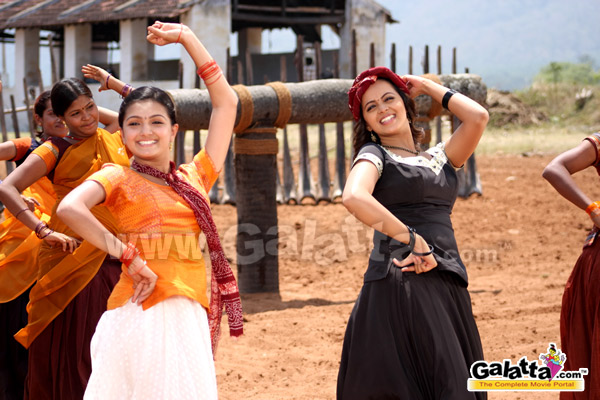 Jayam Kondaan Movie review
With chocolate-boy Vinay, Bhavana and Lekha Washington in the lead roles, at first glance Jayam Kondaan gives the impression of being a soft, romantic film. But in reality, the film goes well beyond that; having a fine blend of sentiment, romance, comedy and action, it is a thorough entertainer.
Responsible and highly-qualified, Arjun (Vinay) returns to India after a sojourn in London. His ambition is to start a construction company, providing local employment to deserving Indians. But a whirlwind of problems distract him from this dream. Whether he manages to overcome these problems and fulfil his goal constitutes the remaining plot of Jayam Kondaan.
Arjun's string of problems begins in his home. When he checks his deceased father's savings account to pool funds for his project, he is surprised to find just a meagre sum in the account; he also unearths a shocking truth. His father had another family comprising his wife and a daughter Brinda (Lekha Washington). Soon, coming to grips with the fact and taking it in his stride, Arjun travels to Madurai to inspect his father's property which he wishes to sell to raise funds for his dream project. He holds discussions with the tenant (who has been occupying the house for a very long time) to work out a deal with the old man and his beautiful daughter Poorani (Bhavana) to make them vacate the house. In the bargain, Arjun also has some romantic interludes with Poorani and a sweet romance blossoms between them.
Meanwhile, Arjun's half-sister Brinda (Lekha Washington) too tries to sell the same property, claiming equal rights of inheritance. Brinda, in a bid to go a step ahead of Arjun, contacts the local rowdy Guna (Kishore Kumar) and takes his help in driving Arjun out of house. However, Arjun takes the legal route; through legal means, he establishes his ownership. But the court verdict does not put an end to Arjun's problems; Guna, along with his thugs, appears for Brinda. What begins as a polite exchange of words develops into a fiery argument. In the tussle that follows, Arjun accidentally kills Guna's wife. Guna takes the loss seriously and chases Arjun with a vengeance to kill him.
Meanwhile, putting all the bad experiences behind him, Arjun compromises with Brinda and settles down with her in the same property. Though Arjun extends a pure brotherly love for her, Brinda is not the submissive kind to forget the past. She continues to detest him. Finally, both Arjun and Brinda find a way out of their embarrassing co-existence; Brinda decides to pursue her education in a foreign university and Arjun too, decides to go back to London. Poorani comes forward to finance Arjun's trip. Does the separation diffuse the animosity between Brinda and Arjun? Does Arjun's decision work out in his favour? Does he finally leave his half-sister Brinda to face her problems on her own? Does Poorani's love assuage all the hardship he has earned? Will Arjun remember Poorani's timely help and come back to make her his wife? How does he put an end to Guna's revenge? Watch Jayam Kondaan to know!
Director R. Kannan (Mani Ratnam's understudy) has done well in his debut. Playing within the commercial formula constraints, he has presented a strong storyline with an emotional undercurrent in Jayam Kondan. Lekha's character is particularly penned with significance, almost equal to the hero's role. And that must have been quite a challenge for the actress to perform in her big screen debut. After the romantic caper Unnalae Unnalae, it is an adventure of sorts for hero Vinay too. However, the change does not stop with his looks. He has handled the character with suitable maturity and performed a balanced act, being the charming lover-boy, a caring brother and an ambitious person.
In fact, though the chemistry between Vinay and Bhavana is so charmingly evident, no extra emphasis is