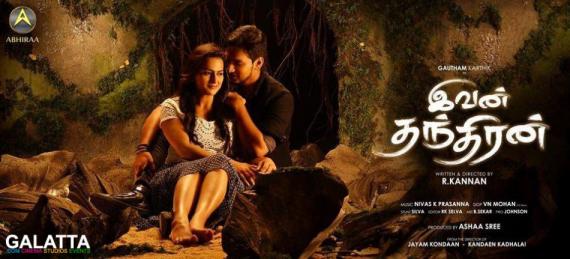 Ivan Thandhiran Movie review
A genuine script is all that you need to succeed among audience and critics alike! The statement has been aptly proven by director Kannan who has come up with Ivan Thanthiran at the right time and the way the film has been executed will ensure you don't feel bored even a bit through the crisp two hour run time.
Gautham Karthik and RJ Balaji are the quirky, young engineers who aren't interested in the syllabus that teaches very little. They drop off their college and setup a gadget shop while working on their dream project, a smartphone with interchangeable components.
While everything seems cool along with Shraddha Srinath entering his life, Gautham loses his patience when the minister fails to pay his bill. He along with RJ Balaji uses a lot of engineering tricks to teach him a lesson that ends them up in trouble but how they make their way out of it has been interestingly narrated in Ivan Thanthiran.
Director Kannan deserves all the praise that we could heap on him for coming up with a story that just sticks to the current situation. Engineers are some of the most underrated and abused lot of today in IT industry which has been perfectly captured within the film and the couple of scenes.
RJ Balaji rocks with his punch dialogs but this season, it's all for Gautham Karthik. After the meaningful Rangoon, Gautham has hit jackpot yet again with Ivan Thanthiran. He's cool playing the role of a confident engineer and has come a long way in terms of acting. With the right roles, he can gain much better popularity and stronger scripts. Shraddha has done her part while the menacing villains Super Subburayan and Silva fill up their part like seasoned actors!
A saving grace in the film is the lack of songs except for one and the trim run time with hardly any negatives to point out. It's one of the best films in recent times based on Engineer's life and audience will enjoy it throughout.
Thumbs Up
· Racy screenplay that focuses purely on the main storyline and never falters
· Gautham Karthik has come up with a mature performance
· Without RJ Balaji's hilarious one liners, it's definitely incomplete. A treat for the audience
· 2-hour run time, short and quick to the point
Thumbs Down
· A slight slowdown prevails in the second half but it's hardly noticeable
Verdict – Entertaining, engaging and brilliantly executed.