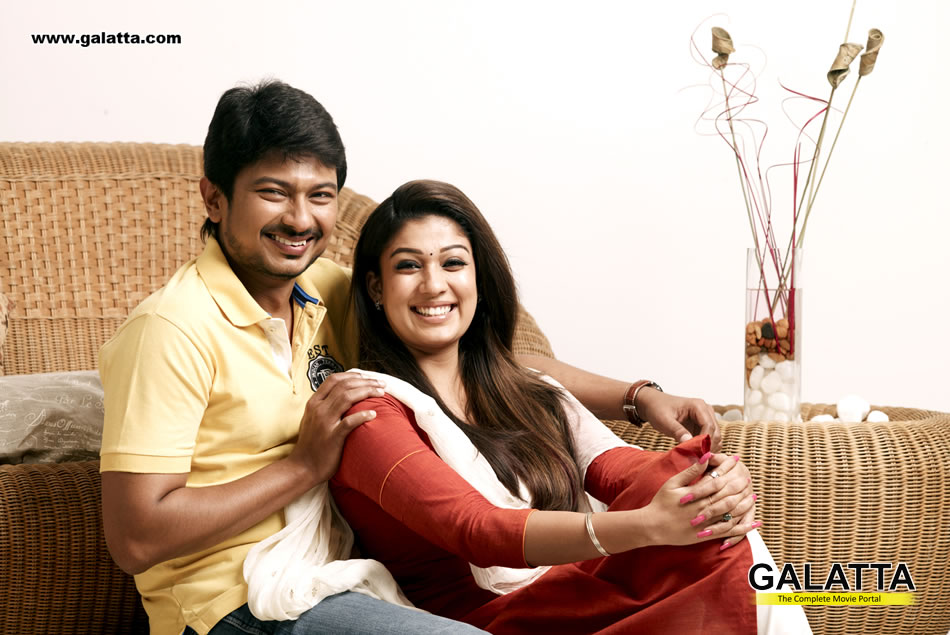 About

Ithu Kathirvelan Kadhal
Kathirvelan falls in love with Pavithra but there are quite a few obstacles that he has to cross before he can marry her...
Ithu Kathirvelan Kadhal Movie review
Ithu Kathirvelan Kadhal is the second movie for both Udhayanidhi Stalin and director SR Prabhakaran, both of whom had amazing success with their debuts. Nayantara, who was approached to pair opposite Udhayanidhi in OKOK will be seen playing his love interest in this movie. Santhanam and Udhayanidhi are coming together again, in this movie.
Ithu Kathrivelan Kadhal is a story about Kathir (Udhayanidhi), Pavithra (Nayantara), Gautham (Sunder Ramu) and Mayil (Santhanam).
The movie opens to a family rushing somebody to the emergency room and the doctors telling that anything could happen to the patient in the next 8 hours. Kathir and Mayil were together in college, but due to certain issues get estranged. Their paths cross again when Kathir comes to Coimbatore where Mayil is practicing as a nutritionist. Kathir is in Coimbatore to meet his brother-in-law and solve his sister's marital problem. In Coimbatore he meets Pavithra, and though he is a staunch Hanuman devotee from the age of 5, he falls for her. Pavithra is a manager in an electronics store. She is friends with Gautham, whose sole intention is to get into bed with her. Unaware of his intentions, Pavithra continues to be friendly with him and is also on the verge of falling in love with him. Kathir tries to warn Pavithra about Gautham, but she misunderstands him. Later on when Gautham misbehaves with her, she apologises to Kathir and they become friends. Their friendship blossoms into love... But there are hurdles of all kinds for the couple. Pavithra's father and Kathir's brother-in-law are sworn enemies and hate each others' guts. Kathir's father is totally against love. Will this young couple's love be realised? Will they get together? What has Gautham planned, to disrupt the duo's love? Watch Ithu Kathirvelan Kadhal on the big screens to know!
Director SR Prabhakaran has taken an age old story and woven it into a pleasant tale with a lot of fun and twists added to it. The screenplay though a tad slow, is pleasing. Udhayanidhi has made a remarkable improvement in his acting and has grown by leaps and bounds in dancing. Nayantara is her pleasant self, and essays her role perfectly. Santhanam cracks up the audience with his oneliners, but the repeated adjusting of his spectacles action sort of becomes irritating. Sunder Ramu is also maturing as an actor, and has performed well. Dr. Bharath Reddy as Kathir's brother-in-law and veteran actor JP as Pavithra's father, excel. Aadukalam Naren needs a special mention for his wonderful performance as Kathir's father. Music is pleasing, though one gets reminded a little of the OKOK songs while watching the visuals.
Ithu Kathirvelan Kadhal keeps with the flavour of the season - Love, and is worth a watch!