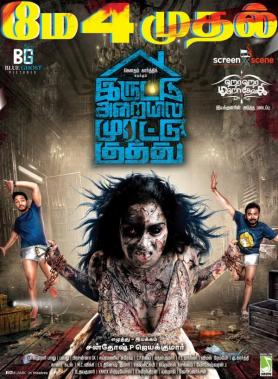 Iruttu Arayil Murattu Kuthu Movie Cast & Crew
Cast :
Vaibhavi Shandilya,Yashika Aannand,Gautham Karthik |
Production :
Studio Green,Blue Ghost Pictures |
Director :
Santhosh P. Jayakumar |
Story Writer :
Santhosh P. Jayakumar |
Screenplay :
Santhosh P. Jayakumar |
Music Director :
Balamurali Balu
Iruttu Arayil Murattu Kuthu Movie review
Iruttu Araiyil Murattu Kuththu is an adult comedy horror film directed by Santhosh P. Jayakumar. Iruttu Araiyil Murattu Kuththu features Gautham Karthik, Vaibhavi Shandilya, Yaashika Aanand and Chandrika Ravi in lead roles alongside Shah Ra, Karunakaran, 'Motta' Rajendran, Bala Saravanan, John Vijay among others.
IAMK starts off showing Gautham Karthik as a playboy, whose parents wish to get him married. However, a number of girls they come across are revealed to be his ex-girlfriends. It is at this point Gautham Karthik meets Vaibhavi Shandilya and it is love at first sight. Despite her apprehensions of his past, Vaibhavi decides to give Gautham Karthik a chance. They both then plan a tour with friends Shah Ra and Yaashika Aanand and, decide to head to Bangkok where they reside in a haunted villa that has a ghost.
Chandrika Ravi is a virgin ghost who has an insatiable desire to indulge in a physical relationship with a virgin boy. Although the premise of Iruttu Araiyil Murattu Kuthu is simple and to the point, the film is without a doubt a highly enjoyable viewing experience for youngsters who relish adult comedies.
Director Santhosh P. Jayakumar has struck the jackpot once again after his Hara Hara Mahadevaki this time with Iruttu Araiyil Murattu Kuthu and doesn't disappoint one bit. He has understood what needs to given to the audiences and in the right dosage without going overboard. Few moments stand out in the film with the humor quotient such as the Viagra scene and the climax scene.
An one page story, there is not much that can be discussed on the screenplay front, but the one-liners do lend a tremendous support. Sparing the dialogues, the writing in IAMK is quite simple and is no rocket science for audiences to wrack their brains over. Before the film begins, a statutory warning is issued to the audience to carry a tissue paper. However, no scenes as implied on a higher plane are included in the film and this move can be considered for the sake of hype which did work out well among fans.
Gautham Karthik exudes liveliness and is dapper throughout the entirety of Iruttu Araiyil Murattu Kuthu. At no point does he have to stress too much to bring the best of a performance required for his role and manages to balance himself quite well for his part.
The ladies in the film - Vaibhavi Shandilya, Yaashika Aanand and Chandrika Ravi despite appearing as a ghost for the most part ooze sensuality and are glamorous to a tee.
As for the supporting cast, Shah Ra has some of the best one-liners to his credit followed by the introduction of 'Motta' Rajendran, Bala Saravanan and John Vijay as their inclusion as the supporting cast takes the film forward.
On the technical front, Ballu's camera work is commendable as he has laid emphasis on the color tone throughout the film. As for the editing, G. K. Prasanna has cut the film in a sleek manner as the content mandates. Balamurali's son
With the film being an adult comedy, songs by Balamurali Balu include lyrics that have several innuendoes, which youngsters will enjoy.
Thumbs Up
Adult content will have youngsters hooked
Fun all the way
A general restriction on what needs to be spoken and what not to be spoken is broken in this film
Thumbs Down
A slightly dragging second half