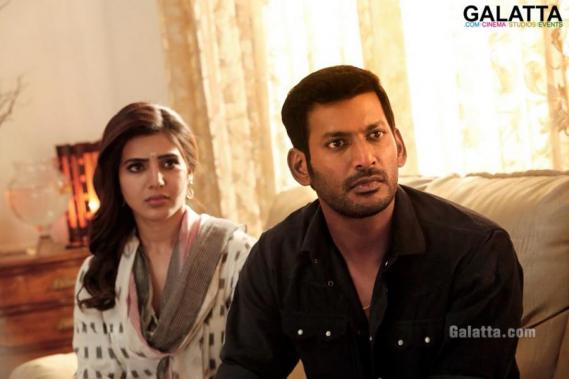 Irumbu Thirai Movie review
Irumbu Thirai is a Tamil action thriller film directed by P. S. Mithran. Irumbu Thirai features Vishal, Arjun and Samantha Akkineni in lead roles with Yuvan Shankar Raja composing the music under the Vishal Film Factory.
Irumbu Thirai film starts off showing Vishal as Kathiravan, an army officer dealing with massive anger management issues, who gets suspended for physically assaulting a common man. As part of the protocol, he is ordered to consult a psychiatrist to deal on these problems and heads back home to find a resolve.
Once home, he meets Samantha, who plays Dr. Rathi Devi, a psychiatrist in the film. While dealing with his plight, Vishal comes across a major plot that could have major effects on the peaceful functioning of the society.
From a narrative perspective, Irumbu Thirai is not your usual run-of-the-mill cyber crime thriller as it not only hits home the message of the importance of cyber security, but also provides a flip side to question our beliefs.
There is a lot of technical insight in the film that has been researched in an in-depth manner by debutant director PS Mithran, who has used several technical terms to bring to light all that is involved in cyber security as well as data management. At some instances, it will be a bit difficult to follow as to what's going on owing to the technical jargon that has been used.
Although the film takes the routine approach to setting up the story, being a newbie filmmaker, Mithran has given a product worthy of praise.
On the performance front, Vishal looks ripped and has established himself physically as an army officer to a tee. The actor has also treated his role with much respect without going overboard at any point of time.
Samantha comes in as a fresh breeze and delights our hearts along with a subtle performance and lends good support to the progression of the story.
For any film to hit the jackpot, you not only require a hero who manages to impress audiences with his daredevilry or intelligence, but there needs to be an antagonist who gives enough challenges for the protagonist, who will only make you want to laud the villain in awe. Arjun not only leaves a strong footprint in the progression of the story, but also reminds the talent powerhouse performer he is.
Cinematography by George C. Williams is on point as he presents the film with appropriate lighting signifying the mood at which the story moves forward. Ruben has once again with ease tapped into his expertise to edit the film in an apt manner. Yuvan Shankar Raja has hit the high note with his background score and reminds us why he is a composer who will continue to garner more fans.
The film will definitely create an impact among city audiences, but will be a major test for those living in towns and villages considering the nature of the plot is a bit complicated to process.
Thumbs Up
Highly informative
An engaging screenplay
Apt performances
Thumbs Down
Audiences in villages and towns will find the film a bit difficult to follow
A lot of technical jargon