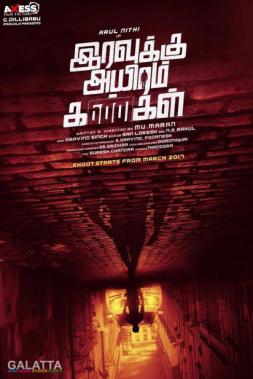 Iravukku Aayiram Kangal Movie Cast & Crew
Cast :
Anand Raj,John Vijay,Lakshmi Ramakrishnan,Ajmal Ameer,Mahima Nambiar,Arulnidhi |
Production :
Axess Film Factory |
Director :
Mu Maran |
Cinematography :
Aravinnd Singh |
Story Writer :
Mu Maran |
Screenplay :
Mu Maran |
Music Director :
Sam C S
Iravukku Aayiram Kangal Movie review
Iravukku Aayiram Kangal is a Tamil action thriller film directed by Mu. Maran. Iravukku Aayiram Kangal features Arulnithi, Ajmal, Mahima Nambiar and Vidya Pradeep in lead roles. Iravukku Aayiram Kangal is produced under the Axess Film Factory banner with music by Sam CS.
The film starts off on the lines of a thrilling novel with a murder kicking off the events of the story. Arulnithi plays a cab driver and Mahima Nambiar, his love interest, is a nurse, with certain circumstances around them taking place in a negative manner.
Around ten characters are part of the film and they are all interlinked to the murder in the film. Ajmal has a major role in Iravukku Aayiram Kangal and is a big surprise for fans as he drives the film forward with his actions along with Suja Varunee and Vidya Pradeep. Lakshmy Ramakrishnan plays a novelist while Aadukalam Naren, John Vijay and Anand Raj all turn out to be victims in the plot.
Although Mahima Nambiar appears as Arulnithi's love interest, her part in the events of the film are important. Iravukku Aayiram Kangal revolves around all these characters and a common incident affecting all their lives.
From a narrative standpoint, the film is fantastic and director Mu. Maran has crafted a screenplay that not only keeps us hooked to our seats, but also tests our intelligence on several occasions.
When compared to the first half, the second half is exceptionally thrilling and gives us plenty of moments we will keep thinking about even after walking out of the cinemas.
On the technical front, Aravinnd Singh's cinematography is top-notch as is San Lokesh's editing as he has managed to create a fine balance in this film that has a non-linear screenplay.
Thumbs Up
Screenplay - our attentiveness is tested and in a good way
Commercial elements like the inclusion of songs are shown the door and is a big plus
Climax has a massive unexpected twist
Thumbs Down
The film starts off a bit slow
Few instances also make us question the concept of logic