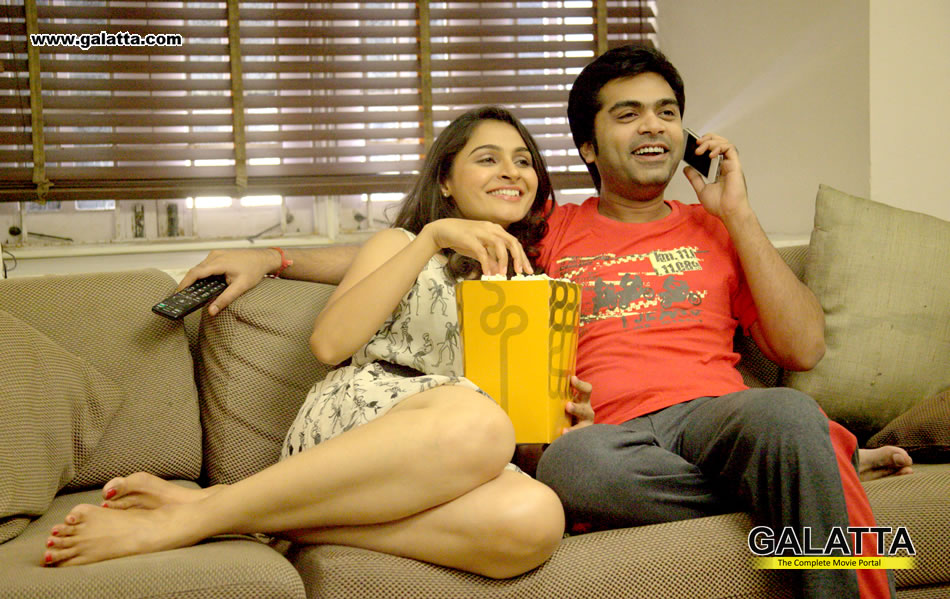 Inga Enna Solludhu Movie review
VTV Ganesh's famous dialogue from Vinnaithaandi Varuvaaya has become the title of his maiden movie venture as a hero.
Ganesh (VTV Ganesh) is holidaying when he receives news of his wife Rajeshwari (Meera Jasmine) meeting with an injury. Not able to find any normal mode of transport, he is forced to hire a car to get him to Chennai. The driver of the car is Ezhumugam (Santhanam). To while away the time on their drive back, Ganesh begins telling Ezhumugam the story of his life. After a series of failures in both his professional and personal lives, a dejected Ganesh returns to India from Singapore. However, when Ganesh finally finds and gets married to the girl of his dreams - Rajeshwari, he thinks all his troubles are over. But, are they? Who is Raghu (STR)? What changes does he bring into Ganesh's life? Catch all the events, trials and tribulations of Ganesh's life by watching Inga Enna Solludhu at the theatres...
Debuting as a hero and a producer, VTV Ganesh is paired up opposite a new look Meera Jasmine, who is making a comeback of sorts after a hiatus. Director Vincent Selva of Youth fame is helming this movie which has music by Dharan. Though the story is a very simple one with an ensemble cast, the tempo falls flat after a good beginning. Santhanam and Ganesh's combination works well in places. Meera Jasmine looks ravishing and makes her role count. STR seems to be the saving grace, as the cool and stylish Raghu. One does feel that maybe Andreah could have been given a lengthier role. Swarnamalya impresses in her portions. A little more consideration could have been given for making the storyline interesting and the screenplay crisper. The comedy is good in flashes. The techincal aspects of the movie are brilliant. Dharan has proven his mettle yet again with his BG score and tunes. RD Rajashekar is his brilliant self and adds real value to the movie.
Inga Enna Solludhu could have been better.