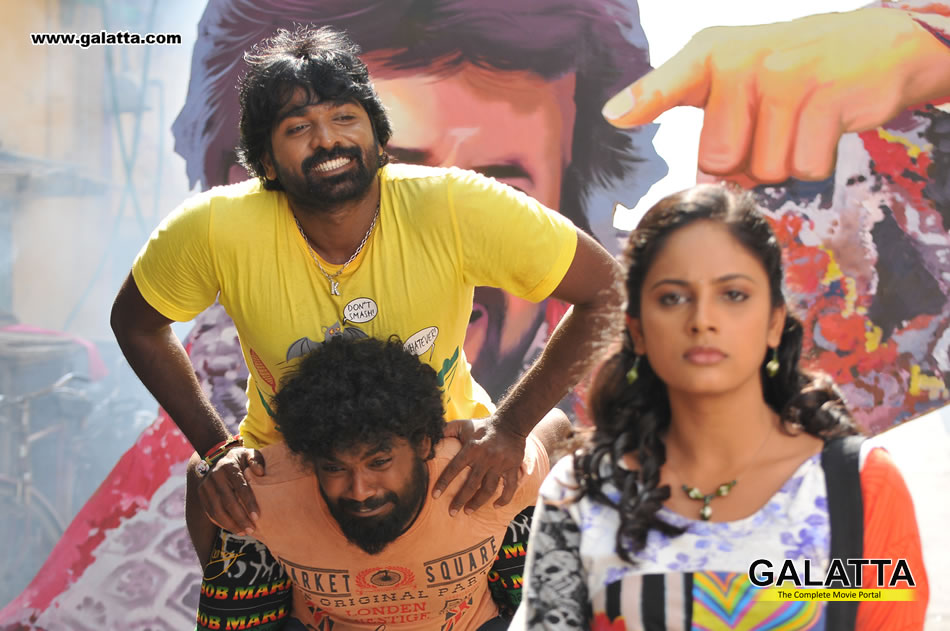 About

Idharkuthaane Aasaipattai Balakumara
Three plots around a social message.
Idharkuthaane Aasaipattai Balakumara Movie review
With back-to-back success like Pizza and Soodhu Kavvum, Vijay Sethupathi has become the most bankable star in Kollywood today. And next on the list is Idharkuthane Aasaipattai Balakumara, directed by Gokul of Rowthiram fame. Apart from Vijay, the film also has Ashwin, Nandita and Swathy in important roles. So what did Bala and Kumar wish for... Read on

Sumar Moonji Kumar (Vijay Sethupathi) is your typical attention-grabbing young lover, he has only one thing to do in his life - that is to attract Kumudha (Nandita), daughter of a local goon. Then there is the innocent Bala (Ahswin) a salesman but he is very different from Kumar. He too has a love interest, Renu (Swathi). A couple of mistakes from Kumar and Bala bring them face-to-face and the rest is a fun-filled jolly ride which you shouldn't miss.

After the serious Rowthiram, it is a revelation to see Gokul handling a comedy script with ease. He has used the first half to introduce and develop the characters while the twist and turns take place in the second half. The story happens in a single day and Gokul's gripping screenplay with a detailed treatment makes the film engaging. Vijay Sethupathi is perfect as Sumar Moonji Kumar, his comedy timing, Madras slang, mannerism and witty one-liners are a treat on screen. Ashwin Kakamanu is not too far behind, his filmy-styled cartoon reactions are rib-tickling. Swati and Nandita look pretty on screen but they don't have much to do. M.S. Bhaskar, Pasupathy, Naan Kadavul Rajendran, Soori, Madhumitha, Robo Shankar and Daniel have portrayed their role well. Kudos to producer V.S Rajkumar, of Leo Visions and JSK Film Corporation, who has distributed it. Siddharth's music is perfect for the script and Mahesh's camera works are good.

Go for it and laugh out loud.