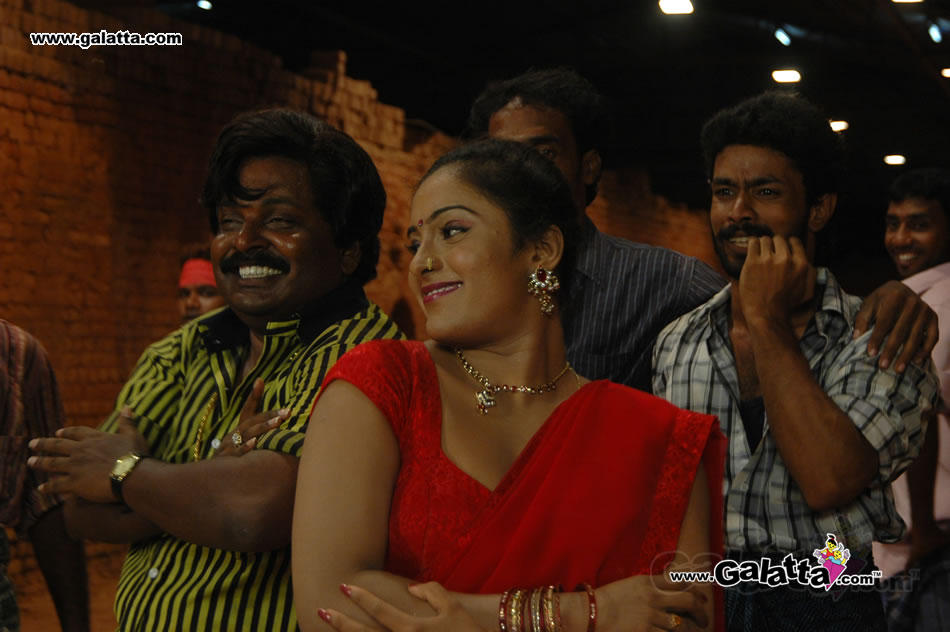 Goripalayam Movie review
After having made the successful family drama Maayandi Kudumbathar, Rasu Madhuravan handles a violent story in Goripalayam. Produced by S. Michael Rayappan, who earlier produced Naadodigal with Sasikumar and Samudrakani, Goripalayam has Vikranth, Ramakrishnan, Harish, Raghuvannan and Prakash in the lead roles.

What's It About?

Goripalayam is again about how one's childhood and upbringing by parents influence one's life. The story takes place at Goripalayam, a suburb of Madurai.

Azhagar (Harish), A to Z (Ramakrishnan), Inippu Murugan (Prakash) and Sangu Ganesan (Jegannath) are four friends who have no aim in life other than smoke, drink and make merry. They steal money for their living and carry knives, threatening anyone who is against them. They are sometimes financially supported by M.G.R. Chinnasamy (Singam Puli) and Mayilsamy. Azhagappa (Raghuvannan) becomes part of the gang since he believes these men will support him when he wants to get married to Parvathy (Swastika) with whom he is in love. Azhagar sees the glances and smiles he receives from Parvathy, falls in love with her, and wrongly interprets her smiles as her love for him. His father (Ilavarasu) gets him married to Parvathy, after which Azhagar comes to know that she is in love with Azhappa and not him. He gets his wife married to Azhappa to honour their love and friendship.

A to Z, so named because he does not know his parents and assumes his father's name would be starting with one of the alphabets, is the closest to Azhagar. Poomayilu (Pongodi) a girl from a middle class family falls in love with A to Z. She shows love and affection to the orphan. When she gets pregnant, they both plan to elope and get married.

When Azhagar, A to Z, Inippu Murugan and Sangu Ganesan meet Azhagappa and Parvathy leading a poor life after marriage, they decide to loot a house and give them the money. The house happens to be the home of Karutha Pandi (Nadha Periyasamy) and Viruman (Ravi Mariya), brothers who are involved in crime. The brothers get the wrong impression that their sister Viji (Jakarti Agarwal) is having an affair with Azhagar when they find him leaving their home after attempt to steal from their house. Viruman kills his sister by hanging her, which is witnessed by A to Z.

The four friends flee from the place and fear the brothers might kill them. Kazhavanathan (Alex), father of Karutha Pandi and Viruman, accidently dies for which Azhagar and his friends are wrongly held responsible. The brothers Karutha Pandi and Viruman hire a paid killer Pandi (Vikranth) to eliminate Azhagar and his friends. Pandi violently kills A to Z on the day of his wedding with Poomayilu. Ganesan loses his hand while trying to escape. The others escape from the neighborhood.

Azhagar, Murugan and Sangu Ganesan decide to take their revenge for the death of A to Z. They devise a plan to kill Karutha Pandi and Viruman. Meanwhile, Pandi keeps searching for them. Azhagar and his men kill Karutha Pandi and Viruman after which Murugan is asked to take care of Poomayilu. The death of Azhagar at the hands of Pandi forms the climax.

The Performances

Harish (Pugaipadam) and Ramakrishnan (Kunguma Poovum Konjum Pooravum) impress along with Vikranth. Singam Puli and Mayilsamy entertain. Ilavarasu proves that he can enact any character with ease. All other actors emote well and deliver above-average performances.

For the Techies

Cinematography by Balabarani is excellent during the chase sequences especially the one between Vikranth and Ramakrishnan. Sabesh Murali's songs are of the mass material supporting the plot. Their re-recording elevates the drama in a few sequences to an impressive level. Editing by Suresh Urs makes the action sequences look racier. This 'A' movie caters to entertain front-benchers with its dialogues and double entendres.

Final Verdict

A violent story like Goripalayam generally has more action than drama, but Rasu Madhuravan makes sure that sentiments and emotions are also an integral part of the plot. Goripalayam, a violent movie about misguided youngsters who take up violence as the path for their survival, is for adults only. Worth watching for the songs and performances of the actors.

Review by Shailesh

Please note: Every review on Galatta.com is written by the person who has watched the movie. Therefore, while conscious effort is made to give a fair, unbiased and ethical opinion, every review will have a personal element and opinion to it. Ultimately, every movie experience is a personal one and readers should watch each movie on their own terms.