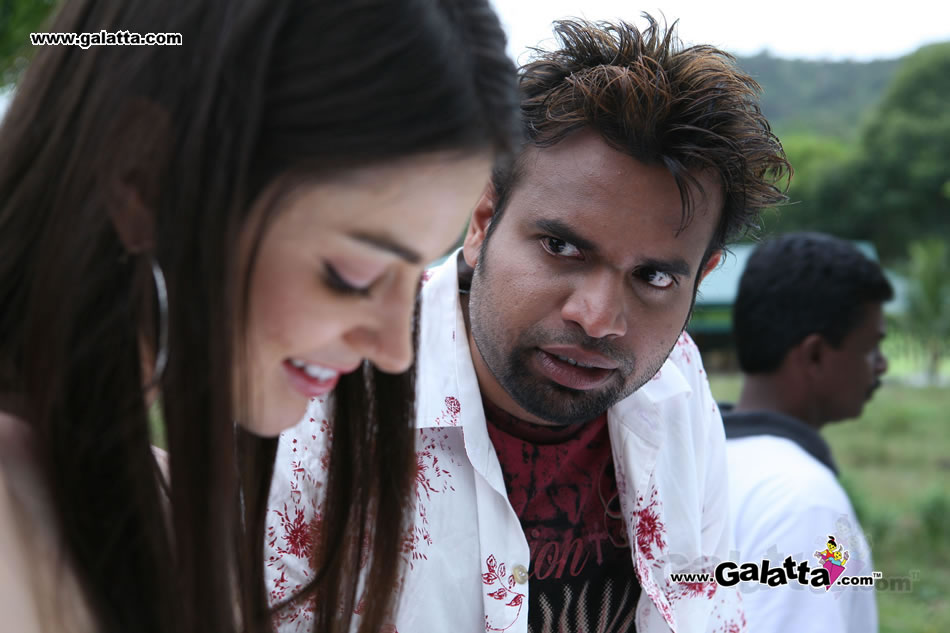 About

Goa
The film follows the journey of three young men, Ramarajan, Vinayagam and Saamikannu, who flee from their remote, conservative village to escape their overly strict families and travel to the international tourist-destination Goa.
Goa Movie review
We seldom appreciate the experiments that happen in Tamil moviemaking, but are always open to anything that Hollywood gives us! We underestimate what our own filmmakers are capable of, keep criticizing and thereby kill the intention of directors to try something different.
Also, rarely does the film's certification matter to any moviegoer before he steps into the cinema hall. If a movie is certified for mature audiences, it is meant to be so. Cinema is inspired by true happenings in life today. It's either told in a sugar-coated fashion or straight in the face. Beginning the review on this note, Goa is different, be it in the story, screenplay or characterization and is for mature audiences. This Venkat Prabhu holiday is going to be loved by his fans and at the same time, will get mixed reviews from armchair-critics!
Here comes the perfectly-planned holiday for all those who seek pure entertainment on the silver screen! Venkat Prabhu's Goa is truly a fun-filled holiday, a romantic comedy. Making his third directorial venture, Venkat must have surely enjoyed it like we do while watching it. Goa speaks on relationships and the love life of the protagonists in a lovable and a thoroughly engaging way!
Venkat has again created a successful commercial entertainer, but differs from the other directors by experimenting with a simple script, then making it interesting and entertaining by playing around with the screenplay and execution. Be it Chennai 600028, Saroja or Goa, Venkat Prabhu will continue to be known as a cult film director. So, what is this roller-coaster holiday ride all about? Keep reading!
Who's In It
Yes! It is true - Silambarasan and Nayantara are in Goa! Though they are cameo roles, the gossip was right! Others in cameos are S.P. Charan, Prasanna, Sakthi Saravanan, Vasuki Bhaskar and Venkat Prabhu himself. Goa boasts of a huge star cast including Jai, Vaibhav, Premji Amaren, Aravind Aakash, Sampath, Sneha, Piaa, Melanie Marie and Jerome.
Yuvanshankar Raja composes the music. Cinematography is by Sakthi Saravanan. Written and directed by Venkat Prabhu, Goa is produced by Soundarya Rajinikanth for Ocher Picture Productions.
What's It About?
Goa is not about the protagonist's struggle for justice to the society, especially the poor and the needy. It is not about the honest officer in disguise as a super hero who fights the evil in his own ways! It is not even about an elder brother's love for his family! You may ask how a Tamil movie can be made without the fight between good and evil as the story. Venkat Prabhu's Goa is your answer! If you have loved movies like Road Trip, American Pie which revolve around stories that are made to entertain only - it would be Goa in Tamil cinema, one among the few. To mention another cult film, it must be K. Bhagyaraj's Indru Poi Naalai Vaa (but of course, Goa is not an equivalent to the classic).
Vinayagam (Jai), Ramarajan (Vaibhav) and Saamikannu (Premji Amaren), childhood friends living in a village, have been trying to make a trip to the city. This seems to be their ambition which is not approved by the village panchayat headed by Ramarajan's father (Vijaykumar). The three, after a few failed escape attempts, decide to run away to Madurai where they assume their friend would help them out. Saamikannu (treated by the villagers as the son of the God!) steals money along with a few jewels from the temple he works in while leaving to Madurai. They meet their friend, who is to be married to a foreigner (named Angelina Jolie!). She fell in love with him while he was a travel guide in Goa. He boasts that he is leaving abroad after marriage and will be earning in dollars. He talks about the rich life he shall lead abroad.
This tempts the three friends and their ambitions now change. They decide to leave to Goa. Their aim? To find gorgeous white women whom they plan to impress and make them fall in love with resulting in marriage. This marriage will enable them to leave abroad and become rich. So, the three now leave to Goa. The holiday starts!
After reaching Goa, they meet Danny (Aravind Aakash), who along with Jack (Sampath), his partner in business and life, provides the guys with accommodation, food and also image makeovers. Vinayagam as Vinay, Ramarajan as Ram and Saamikannu as Sam begin their quest to find the perfect woman! At the end of the story, the three of them do find their perfect matches but, are they the ones they came to Goa in search of? No! Destiny has its own plans! Check out the movie for the twists and turns which will make you bring the theatre down with your laughter!
The Performances
Anyone who watches Goa will agree that Venkat Prabhu can never get a better cast than his present Goa cast! It looks like not just Venkat, the entire cast and crew enjoyed working in this movie. This is evident from the performances by the cast. They are all at ease. After all, it's a holiday!
Jai as Vinayagam rocks with his 'Butler English'! It is a delight to watch him dance to the music of MJ and call America his native country! He is at best when he convinces Premji and Vaibhav to plan a trip to Goa. He emotes well when he has to make a choice between his ambition and love. Piaa as Jai's love interest is cute!
Vaibhav as Ramarajan, the Casanova of the village, is hilarious, especially when he finds himself in a tight corner by marrying the possessive Sneha! His man-to-man talk with Prasanna on Sneha is just pure fun! Sneha as Suhasini, an entrepreneur who owns a ship and a casino is excellent! She has to be appreciated for having accepted to play this crazy woman who nearly terrorizes Prasanna and Vaibhav with her possessiveness! She looks pretty and sexy in modern outfits. The prelude to her action avatar as Bhavani can also be seen in Goa!
Aravind Aakash as Danny with his six-pack abs makes an impression playing the gay lover, a character that has always been mocked or used for comic relief on the silver screen. Sampath as Jack is impressive. Though his sequences with Aravind Aakash might not go well with conservative audiences, both actors have given what was necessary as far as performance is concerned.
The show stealers are Premji Amaren and Melanie Marie as Saamikannu and Jessica Alba! Premji has become a commercial hero with Goa! He falls in love, fights the baddies and also wins his bride at the end! His Naan Kadavul, Vettaikaran and Subramaniapuram sequences are a laugh riot! Melanie as Jessica Alba makes a wonderful pair for Premji! Jerome is good as Aravind's friend.
Venkat has created fun by making an actor play a variety of characters in the same movie. Ravikanth and Pitchumani excel in more than 9 roles! The most-remembered will be the lady get-up which is shown while the credits roll! Hollywood's Bedazzled (Brendan Fraser and Elizabeth Hurley) comes to mind when this scene is seen. Overall, as mentioned earlier, Goa is supported by excellent performances from the cast.
For Techie Lovers
Venkat Prabhu's movies have always been technically above average and Goa has gone one step further with excellent visuals by Sakthi Saravanan and music by Yuvanshankar Raja. 'Idhu Varai', 'Vaaliba Vaa Vaa' and 'Idai Vazhi' are the pick of the lot. His Goa theme suits the holiday mood of the movie. The background score is perfect for a romantic comedy! Vasuki Bhaskar's costumes are fashionable. Goa is a visual treat. All the spoofs are thoroughly enjoyable; a few are the flashback of Premji's birth, Melanie and her friends speaking Tamil, like in those dubbed movies with 'Ovvuru Pookalumaey' as the background music!
Final Verdict
Venkat Prabhu's Goa produced by Soundarya Rajinikanth is a hilarious entertainer! Not every movie has to carry serious propaganda or a message for society! True love triumphs - that's the message of Goa. You are on a holiday, so forget seeking answers for questions prompted by the grey cells! Skip logic, enjoy this Venkat Prabhu holiday!

Cheers!: Venkat Prabhu, Soundarya Rajinikanth & the entire cast and crew!
Review by Shailesh
Please note: Every review on Galatta.com is written by the person who has watched the movie. Therefore, while conscious effort is made to give a fair, unbiased and ethical opinion, every review will have a personal element and opinion to it. Ultimately, every movie experience is a personal one and readers should watch each movie on their own terms.