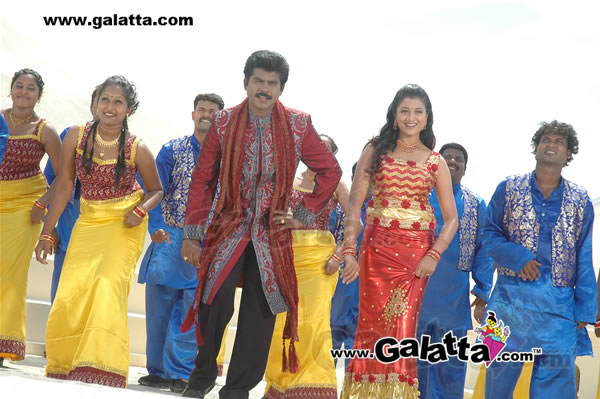 Gnabagangal Movie review
Gnabagangal is poetic love story indeed! The film marks the entry of lyricist Pa. Vijay as a hero and is dedicated to his late friend Kathiravan, his room mate during his early years of struggle. The film is a reflection of dreams and nostalgia and may find appreciation from several aspiring film-makers, script writers and actors who live in Kodambakkam (Chennai) with hopes of making it big in the film world.
The film (based on real life) starts off with Kathir (Pa. Vijay) winning the prestigious National award for Best lyricist from the President of India. After the awards function, Kathir decides to go and meet his ex-love Meera (Sridevika) who is now married to a businessman. On reaching Meera's house, he finds that she is now living a life of penury after having lost her husband due to unforeseen circumstances.
But Meera manages to keep smiling and tries her level-best to cover up, saying that her husband is always touring the world and is very busy all the time. Kathir wants to tell Meera that he is a successful man today, but after seeing Meera's condition, he decides to leave his award certificate and medal behind and leaves without telling her anything.
The film moves back and forth (between the past and the present) and shows the initial point where Kathir first met Meera and how the relationship slowly developed. During his early days (before becoming famous) Kathir, an excellent poet, has a unique ability to create thought-provoking one-liners and messages very fast. He is encouraged by Meera to pursue his dream and even manages to publish a book of poems.
While his aim is to make it big in the film industry, he also loves Meera and hopes to marry her. But Meera's parents soon decide to marry her to a local businessman after the family goes through some traumatic moments. Kathir is unable to do anything as he is arrested by the police on allegations of having extremist links.
What happens next? How does Kathir come out his turmoil and achieve his goal? That forms the climax. In short, Gnabagangal is a beautiful story written by Pa. Vijay about what could have happened to his friend (late Kathiravan) had he been alive. Pa. Vijay visualizes his friend as one of the most successful poets and lyricists in India. This story of friendship is a tribute to Kathiravan, an unsung hero in Pa. Vijay's eyes. But unfortunately, his friend Kathiravan is no more.
Gnabagangal, which touches upon dreams and nostalgic memories, is directed by Jeevan. Music is scored by James Vick who has come out with some peppy numbers like 'Unnai Mudiyum' and 'Azhage Azhage'. Sridevika has put up a very spirited performance.
With Gnabagangal, Pa. Vijay becomes the first lyricist to debut as a hero. The film releases today (July 3rd) and if it turns out to be a hit, Pa. Vijay may start acting in more films. As an actor, he has done a good job and is also a good dancer.
Gnabagangal, a tussle between ambition and love, is a perfect poetic entertainer.